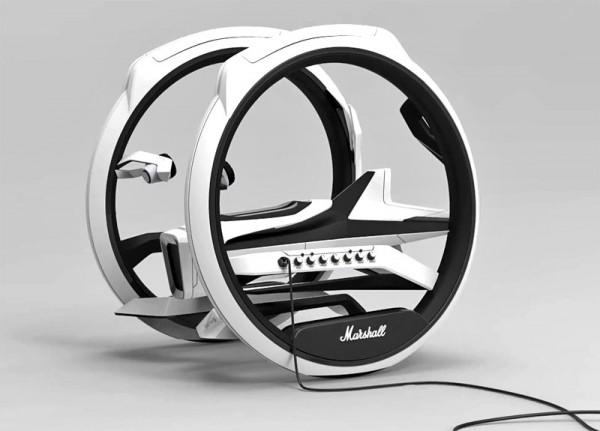 We've featured some fairly unusual vehicles on diseno-art over the last 8 years. If you don't believe me then just check out the strange vehicles section of the site. But what fell into my inbox this morning has to be one of the more bizarre and imaginative concepts I've seen in a while. It's called the Marshall Dicycle, and it was created by Yuhan Zhang, a talented 1st year Transportation Design student at the Umea Institute of design.
The Marshall Dicycle was fictionally created for the Marshall Amplification brand of music amplifiers – one of the oldest and most respected manufacturers of amplifiers and effect pedals. The idea behind the concept was to make it multipurpose. So the Marshall Dicycle not only acts as a means of transportation, it also acts as a mobile disco – acting as speakers and amplifier for traveling musicians.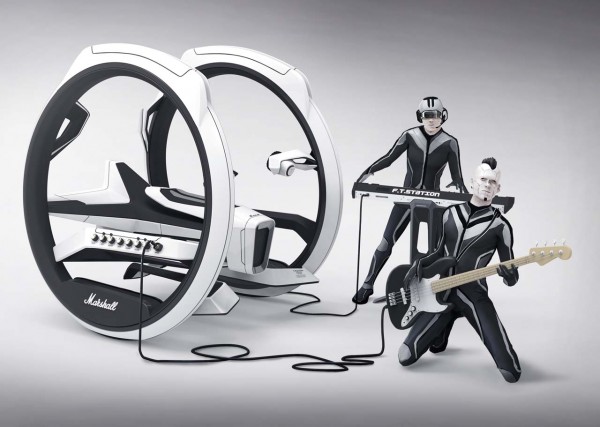 The layout of the Marshall Dicycle, while unusual, is not untested. In fact some Australian engineering students have made a working prototype called the EDWARD electric diwheel – which quite frankly looks like an absolute hoot! However unlike the single-seat EDWARD, the Marshall Dicycle has room for two people, who sit astride the vehicle like a motorcycle. Underneath the seating area is storage space – presumably for musical instruments. While at the rear is a power socket for juicing up the vehicle and also providing power for the impromptu gigs.
Daft Punk really should get one of these. Crazy but strangely awesome.