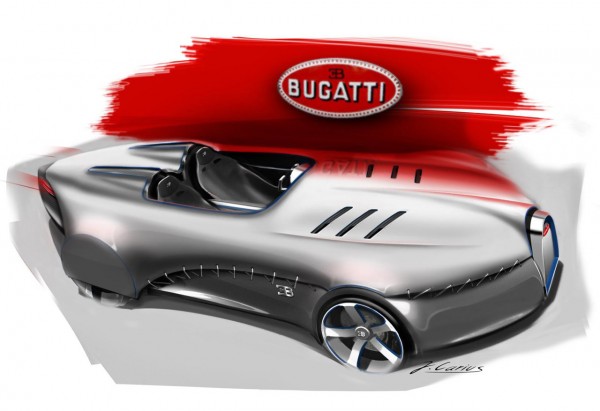 At the 2013 Salon Privé this September, students from the Royal College of Art (RCA) will be presenting a number of designs for a competition called 'Concours of the Future'. The contest requires the student designers to reinterpret historic Concours-winning cars and re-design these icons for the future.
Initially 40 designs were developed, but only 11 have made the final grade and will be judged at the pompously-titled Salon Privé motor show. Today four of those final designs were previewed. Including an Auto Union race car with hub-less wheels, a futuristic Bugatti Type 35 roadster, an extremely low slung Lamborghini 350 GT concept, and a Tron-like Rolls-Royce Phantom. Other marques which will feature in the competition include Alfa Romeo, Ferrari, Maserati, Peugeot, Pegaso and Zagato.

The judging panel comprises of automotive designer and RCA visiting professor, Peter Stevens; Dale Harrow, Head of the RCA Vehicle Design programme; Giles Taylor, Director of Design, Rolls-Royce Motor Cars Ltd; Peter Schreyer, Chief Design Officer, Hyundai and Kia Motors; and Peter Horbury, Vice President – Design, Geely.
Designers of the top three 'Concours of the Future' cars will be presented with trophies created by Bridge of Weir Leather Company and a magnum of Pommery champagne. The overall winner will be invited to Milan for a behind-the-scenes tour and design master-class with Andrea Zagato at the Zagato Design Studio.
Peter Stevens said of the event: "The RCA is very proud to be working with Salon Privé on this fascinating new project.  Some of the results are astounding, and I'm delighted to be supporting the 'Concours of the Future' design exhibition with some of the most esteemed designers from around the world.  Our young RCA designers are presenting their continuing fascination with the romance of the motorcar to their prospective future employers, and what an illustrious panel it is.  The commitment of this eminent group of designers shows both the strength of this new exhibition and of Salon Privé in the world of automotive shows."
Source: Salon Prive