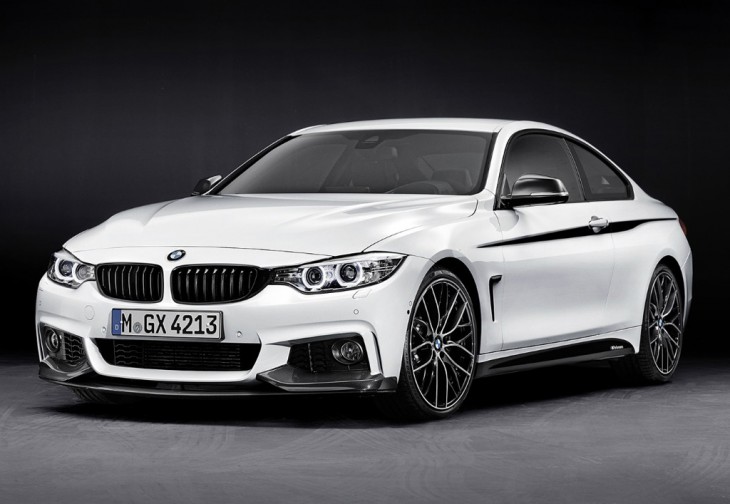 With the imminent arrival of the new 4 Series, BMW have been ramping up the excitement with the unveiling of a selection of M Performance parts. The 435i display car shown here is equipped with a number of exterior aerodynamic upgrades, interior trim enhancements, modifications to the powertrain and improvements to the chassis.
The exterior of the 435i M Performance features a new front bumper with significantly larger openings and a carbon fiber splitter, lightweight 20-inch wheels, rear diffuser, carbon fiber rear spoiler, blacked-out grilles and a stripe running down the sides.
The interior of the car benefits from acres of Alcantara suede, a multi-function sports steering wheel with race display, steel pedals, M Performance floor mats, and an M-branded shifter.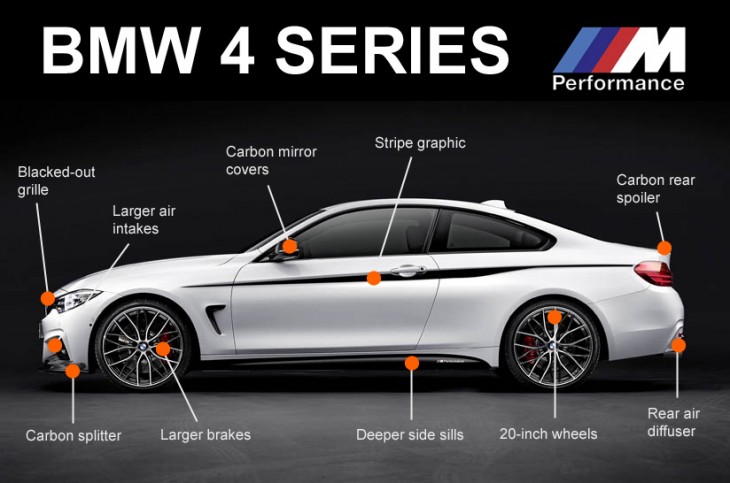 But really its the engine and drivetrain modifications which are of interest here. The 435i M Performance package includes a 'power kit' which bumps the horsepower output from 300 hp to 334 hp. The torque figure also rises, increasing from 295 lb-ft to 332 lb-ft (450 Nm). The M Performance package also includes power and torque increases for two other engine options available for the 4 Series. The 420d gets an extra 16 hp and 29 lb-ft raising output to 195 hp and 309 lb-ft (418 Nm), while the 428i benefits from an added 27 hp and 29 lb-ft – for a total of 269 hp and 287 lb-ft (389 Nm). The power kit comprises of a new exhaust system and adjustments to the engine software.
As well as looking meaner and going faster, the M Performance parts list for the 4-Series also includes enhancements designed to improve the handling. There is a limited-slip differential, uprated suspension and more powerful brakes all on offer.
The M Performance parts for the 4 Series coupe can all be ordered as options on a new car, or retrofitted at a later date through BMW dealerships. The M Performance package can be ordered as a complete kit or as individual parts. Prices are yet to be confirmed.
Source: BMW