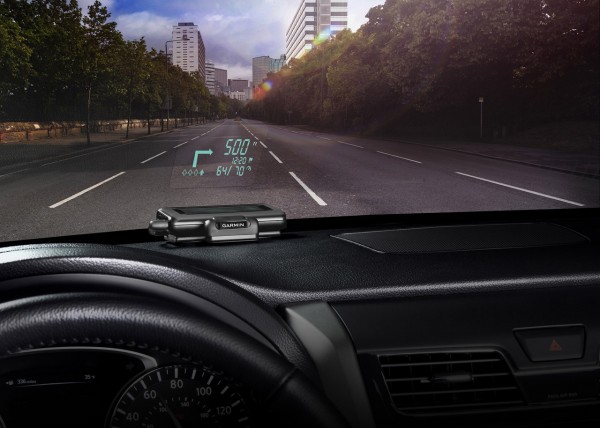 Garmin have just revealed the details regarding their first portable Head-up Display (HUD) system. The device – which is used for navigation in combination with smartphone navigation apps – provides drivers with another way of getting a HUD into their car. Currently the only way to do it is to buy a car with it already fitted. Although usually that adds at least $1,000 to the list price. The Garmin HUD will go on sale this summer with a MSRP of $130.
Garmin's HUD device works by projecting images onto a transparent film which is placed on the lower section of the windshield. The HUD then shows navigation information based on Garmin StreetPilot or NAVIGON apps.

The Garmin HUD displays turn arrows, distance to the next turn, current speed and speed limit, as well as estimated time of arrival. Additionally it lets drivers know what lane to be in for the next maneuver and alerts them when they exceed the speed limit. The Garmin HUD also provides warning of potential traffic delays and upcoming fixed safety camera locations. The display automatically adjusts the brightness level so projections are clearly visible in direct sunlight or at night.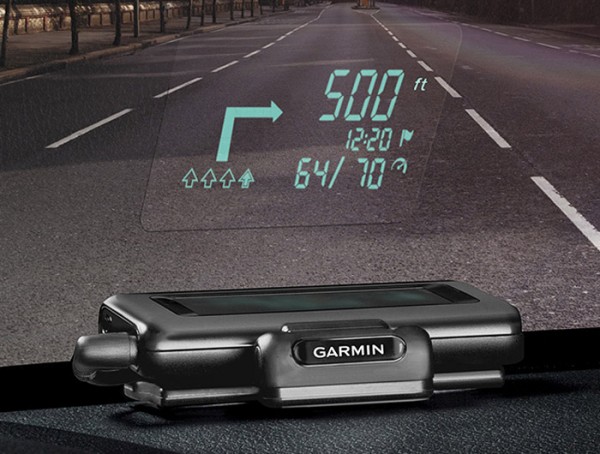 As well as the on-screen display, spoken turn-by-turn directions are provided simultaneously via the navigation app, either through the smartphone speaker or a Bluetooth-connected car stereo. Music streamed to the car stereo from the smartphone will automatically fade out for turn-by-turn voice prompts. The Garmin HUD will also continue to display navigation information while taking incoming calls.
According to Dan Bartel, Garmin vice president of worldwide sales: "HUD redefines the navigation experience by allowing drivers to find their way without taking their eyes off the road Head-up displays currently have their place in select high-end cars, but HUD makes this technology available as an aftermarket accessory for any vehicle, at an affordable price."
Garmin have designed the HUD for ease-of-use. Information can be displayed on the windshield, by using the transparent film which is provided, or on to the included reflector lens that attaches directly to HUD. The device pairs wirelessly with a compatible Bluetooth-enabled iPhone, Android phone or Windows Phone 8.
It will be interesting to see if the significantly lower price of the Garmin HUD will contribute to manufacturers lowering the price of their integrated HUD systems in the near-future.
Source: Garmin