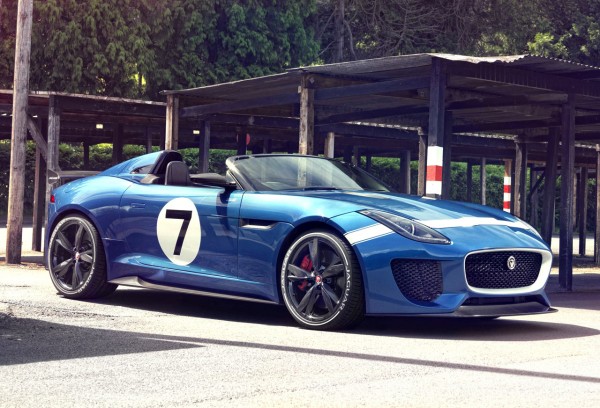 The Jaguar Project 7 is a single-seat, all-aluminium bodied roadster with custom-made carbon fiber aerodynamic components.
The most noticable design changes to the Project 7 car over the standard F-Type include a fairing behind the driver's head, bespoke carbon-fibre components consisting of a new front splitter, side skirts and rear diffuser, a lowered windshield and a restyled front bumper. The Jaguar Project 7's unique interior features a composite single-seat with racing harness, a helmet holder and custom trim.
The Jaguar Project 7's name is designed to highlight the company's seven Le Mans wins from 1951 to 1990. The blue paintwork is similar to that found on the race-winning Jaguar D-types from 1956 and 1957.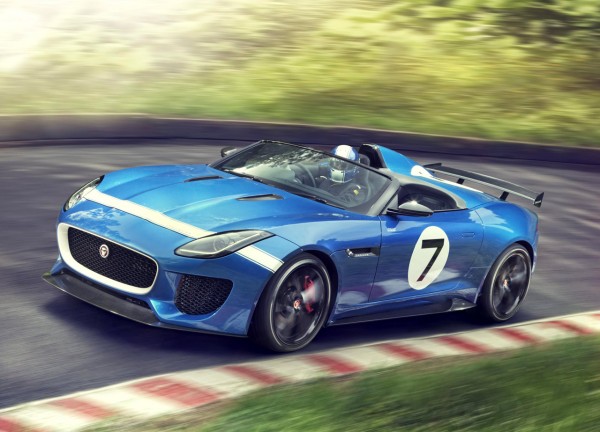 Although the Jaguar Project 7 has been built as a one-of-a-kind show car, it is fully functional and race-ready. Powering the concept is a 5.0 litre supercharged V8 which produces 550 horsepower @ 6,500 rpm – 55 horsepower more than the engine used in the F-Type V8 S.
As well as the extra power, the Jaguar Project 7 features an eight-speed Quickshift transmission and electronic active differential. The car also benefits from a free-flow exhaust system with a ceramic finish, 10mm lower ride height and a unique spring/damper tune.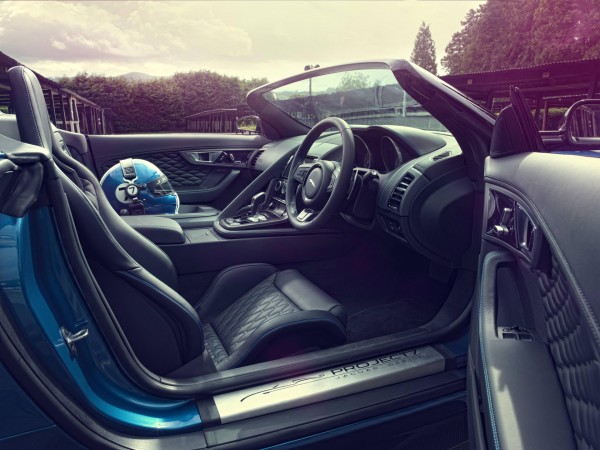 The interior of the Jaguar Project 7 features a composite bucket seat, lowered by 30mm, and a four-point racing harness. The passenger seat has been replaced by a unique helmet holder, which houses a custom-designed Project 7 helmet in matching blue paint and graphics.
The seat and the insides of the doors are finished in a quilted racing-style diamond pattern. There are carbon-fibre inserts on the console and SportShift lever, the start-stop button is gloss black and the steering wheel is equipped with machined aluminium paddles.
Amazingly the Jaguar Project 7 went from design sketch to finished car in just four months. The initial sketches were made by Jaguar designer Cesar Pieri. After seeing them, Jaguar's design boss Ian Callum decided to take the concept further. He said of the car: "When I saw this sketch of a low-screen, single-seat F-TYPE, I felt enthused by it and wanted to take it further. As designers, our very purpose is to disrupt – to turn the norm on its head and see if it still works – and here at Jaguar, we love to push the boundaries.
"As a team our challenge was to take this gem of an idea, work within the limitations of production feasibility, and create something worthwhile. So I encouraged Cesar and Alister Whelan, Chief Designer, Jaguar, to take it to the next stage and develop a workable concept, and with the support of key departments across the business, Project 7 was born."
Source: Jaguar