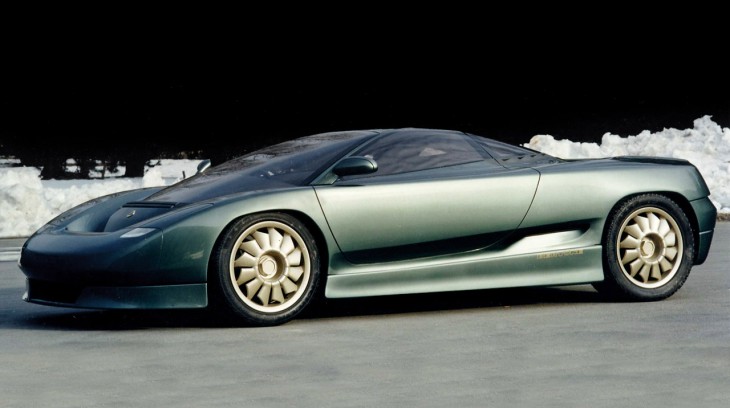 The 1991 Lotus Emotion has an interesting and convoluted back-story, and it very nearly could have become a legendary supercar – twice. Instead it just became a footnote in automotive history.
The concept was first unveiled at the 1991 North American International Auto Show, it wore Lotus badges and was based on a Lotus Esprit platform. It was a non-runner, however it was designed to accept the Esprit's 2.2-litre 264-horsepower turbocharged inline 4-cylinder engine.

Where the story starts to get twisted is in the fairly strong rumors the Emotion was actually Bertone's failed proposal for the Bugatti EB110 supercar – the contract went to Bertone's rival Marcello Gandini. The story goes that when the concept got turned down by Bugatti, they quickly attached some Lotus badges in the vague hope the management at Lotus Cars might use the concept as a starting point for a new Esprit model. Although to be fair Bertone were at the time fairly honest in acknowledging that this was a long shot.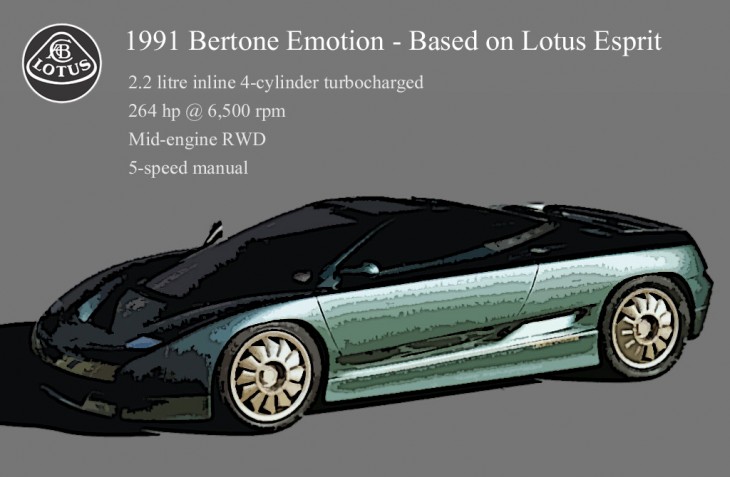 The styling of the Lotus Emotion was partially inspired by another Bertone concept, the Bertone Nivola – which itself was a failed proposal for the Chevrolet Corvette. The Lotus Emotion was relativley compact, measuring 160 inches (405 cm) long and 75 inches (190 cm) wide – similar in size to the notoriously small Lancia Stratos.
Notable styling features of the Lotus Emotion concept by Bertone included a speed-dependent adjustable downforce rear spoiler and incredibly clean and uncluttered bodywork. While the Lotus Emotion concept lacked a drivetrain, it was estimated at the time that a fully functional Lotus Emotion would have been able to accelarate from 0-60 mph in around 5 seconds and hit a top speed of 170 mph.