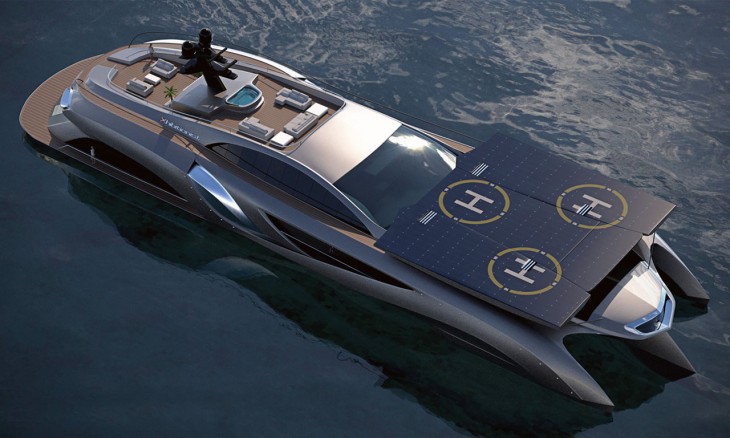 The Strand Craft 166 Xhibitionist is an ultra-luxurious superyacht which was designed around an automotive theme. The 164 foot (50 metre) vessel was penned by Eduard Gray of Gray Design. The yacht has an unusual aesthetic for a boat, with an opening at the front very similar to a car grille, and along the sides the bodywork rises and falls like the curving wheel arches on a classic sports car.
Contributing to the sleek profile of the Strand Craft 166 Xhibitionist is the retractable flybridge and radar mast that retreat into the skin of the yacht when not in use. Both can be deployed independently of each other and are only visible when they are required. The helicopter landing pads also fold away. Additionally the Strand Craft 166 Xhibitionist features two concealed entrances, hiding the stairway to the upper aft deck as well as providing access to the garage, bar and lounge areas.

Concealed beneath the carbon fibre inlaid fore deck of the Strand Craft 166 Xhibitionist is a sun deck equipped with a large jacuzzi, featuring  a built-in bar. Access is through a vertically sliding glass door in the windscreen of the pilot house – where there is additional seating for 8 guests. The pilot house itself opens up to the lounge to provide connection between the driver and the main guest area, and at the same time letting in light from the main windscreen to the spaces below.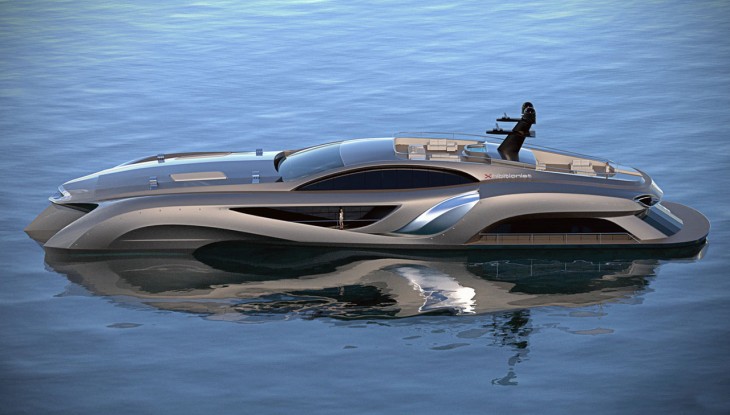 The Strand Craft 166 Xhibitionist also features a bit of a party trick. Down below is a large garage which houses a custom made supercar which has a 605 horsepower V8 – unfortunatley Strand Craft don't go into any more detail than that. Alternativley – or additionally – the yacht's garage is capable of holding a number of other supercars or other road vehicles for use when the vessel is docked.
The Strand Craft 166 Xhibitionist comes with the option of having upholstery made from an exclusive Japanese Samurai leather. This custom designed material is woven from a bullet-proof textile made of Vectran fibres. Optionally all walls can be covered in Samurai leather to make it a bullet proof yacht. Especially handy if you happen to be an evil genius as well as a yacht owner, and I'm sure there's a fairly large crossover between the two!
Completing the specification list, there are five double en-suite staterooms, each equipped with a 52-inch Bang & Olufsen TV, high-spec sound system, LED mood lighting and a iPad control and information center which allows the user to activate any function from wherever they are on the yacht, as well as providing information about the running and status of the vessel.
Strand Craft 166 Xhibitionist by Gray Design Specifications:
LOA:  50 m / 164 feet
BEAM:  9 m / 30 feet
CONSTRUCTION:   High Tech Composites
DRAUGHT (loaded):  1.9 m
WEIGHT:  230 Ton
ENGINES:  2 x MTU 20V4000 M93L
BOOSTER:  Vericor TF50
PROPULSION:  Water Jets Rolls-Royce KAMEWA
TOP SPEED:  ~ 40 Knots
FUEL CAPACITY: 35000 L
FRESHWATER CAPACITY: 5000 L