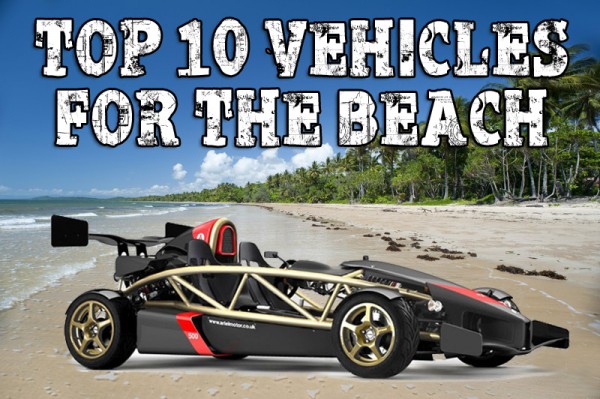 I'm sure you already know, but just in case you've been in a bubble, sealed, airtight and opaque and haven't heard the news, let me just break it to you: we have a full blown, scorching summer. So, what can you do in such a fiery atmosphere – besides driving up the electricity bill with constant air conditioning? Well you could go to the beach. With what, you might wonder. Well, I've come up with a few ideas for you…

What I am talking about here is the perfect beach vehicle, money not considered, and with the twist that some of these machines can get to the beach either way (from land or sea) or even both. Let me know in the comments if you can think of any more.
Jeep Wrangler/CJ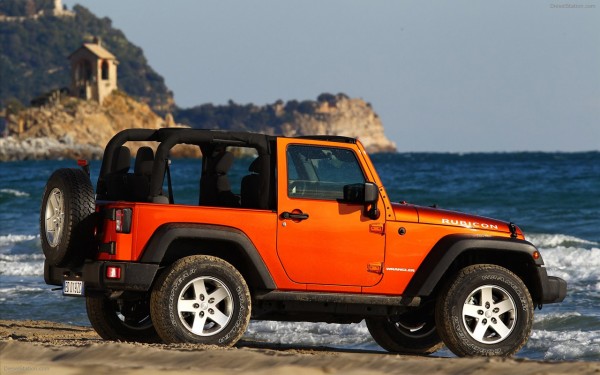 First up is of course the bringer of 4×4 action, the one and only Jeep. And when I say Jeep, I really mean the CJ (acronym for, you guessed right "Civilian Jeep") and it's modern sibling, the Wrangler.  The Jeep's military ancestor went to numerous beaches – although not for vacation purposes.
Volkswagen Buggy Up!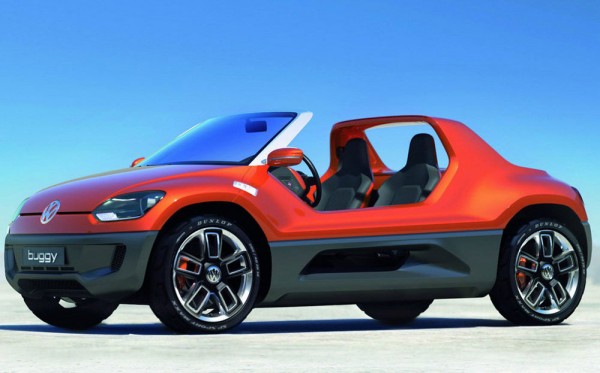 We should settle down now, be more serious and… throw away the new Up! city car, which is small and impractical for more than one person and their cat. It's summer, I really don't care now that I can park it anywhere because everyone else is out of town for vacation so there are parking spaces for 6 meter pick-ups as well. So, away with any small car and please VW start producing the Buggy Up! concept – do you realize how many people would buy it if you offered to give them the boring Up! for 9 months a year and during the 3 months of summer exchange it with this buggy?! Come on, everyone would be a sucker for such a deal: it would be trendy, cheesy, retro- chic, future-chic and also really, really cool. Volkswagen Buggy Up!
Transparent Canoe-Kayak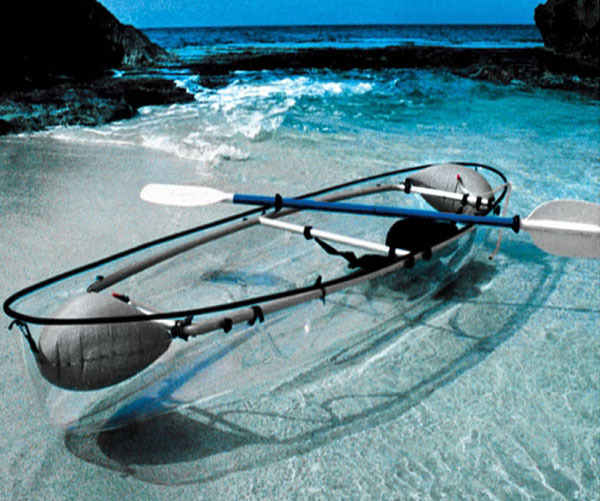 75% of the Earth's surface is covered by oceans, so from a statistical point of view there should be many more chances to approach a beach from the ocean, rather than from the land. And what a way to do it if you're in one of these beautifully simple contraptions. Called just Canoe-Kayak, this transparent vehicle offers you the possibility to harmoniously connect to mother Earth through human powered locomotion and high tech materials. That last bit is because its hull is made of the same polymer employed for the canopy of the highly technical and deadly fighter-jets of the 21st century. Transparent Canoe-Kayak
Abarth 500C esseesse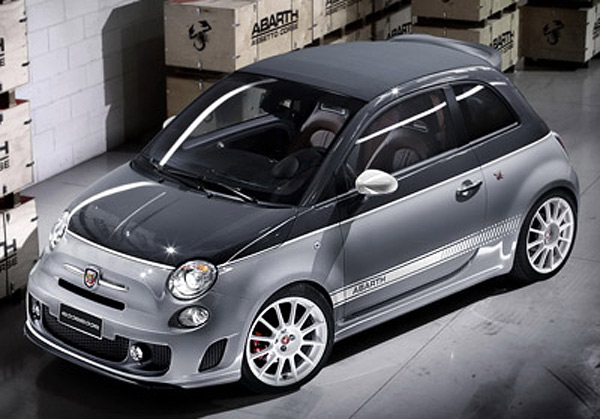 Never mind the name, and never mind the fact that a legendary brand now only provides technically enhanced Fiats. This little bomb is a real… bomb! The Abarth guys and gals have taken a fashionable Fiat 500 and tweaked and tinkered it until we have an aggressive supermini, with bold exterior styling, not so great interior styling and a reasonably advanced drive train. The unwritable term "esseesse" refers to a kit that transforms the uninteresting 1.4 liter four cylinder into a road hungry 160 HP and 230 Nm little beast, while the tweaks made to the exhaust make sure everyone will see and especially hear you drive by. And of personal experience, this is one of the best sounding European cars made today. And the most important part? It's a cabrio! Abarth 500C esseesse
C.A.M.I. Hydra Spyder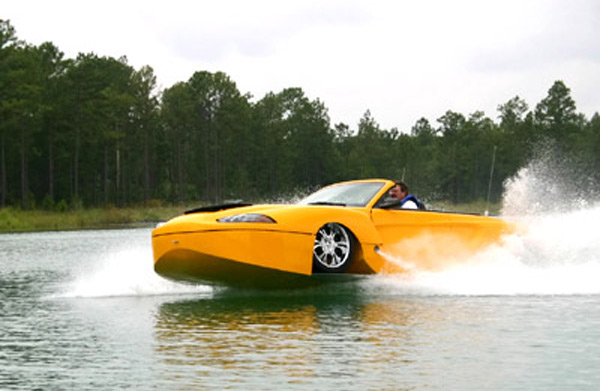 It's time to go big now, and also wet: with the Hydra Spyder, which is a cabrio, a supercar and a boat – all in one. Yes, if you feel like traveling with the wind in your hair, driving along demanding roads with twists and turns you can do just that. Or if you prefer to have the spray of the sea in your eyes you can do that too. This is a high performance amphibious sports vehicle powered by a Corvette V8 engine, constructed from aluminum and fiber glass, with seating for four and the ability to tow a water skier. Also, it has approval from the good ol' US Coast Guard because it features floatation foam for positive buoyancy. C.A.M.I. Hydra Spyder
Peugeot Touareg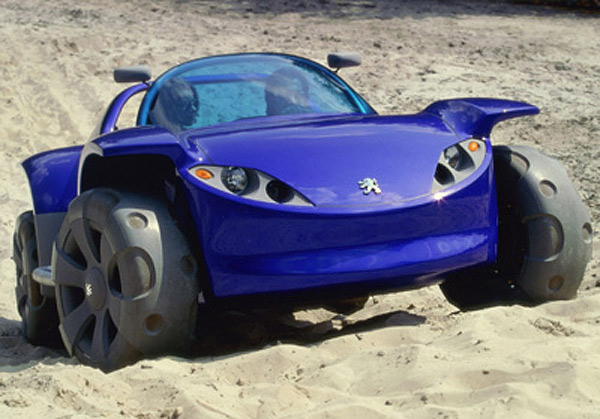 This old concept, which dates back to 1996, is the perfect example of how we tend not to have too much fun anymore – just by looking at it you can imagine the designers had fun creating it and you would too driving it. It's a reinterpretation of the classical beach buggy concept, with a small SF twist. We love the odd looking tires that seem to meld into the rims, the technically advanced construction (carbon frame, body of molded plastic) and the environmentally conscious electric drive train. Besides, who would turn down exploring a remote and secluded beach with such a moonish buggy? Peugeot Touareg concept
Volkswagen Aqua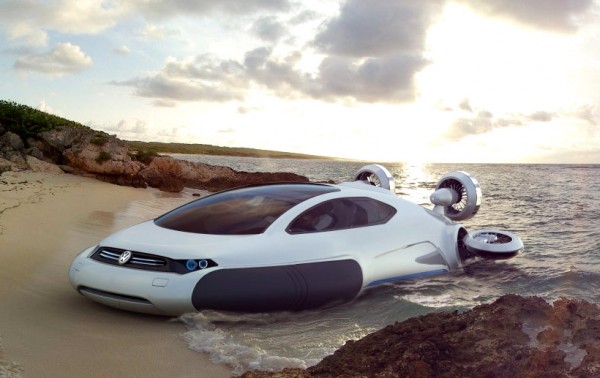 This concept, created by a promising young graduate of Chinese origin shows an interesting take on the future of transportation – one that would allow us to escape the constraints of a road infrastructure. And, although it looks rather futuristic – as is the point with concepts. Well, except the ones with a retro look – the basic idea behind it is that Aqua is actually a hovercraft. I like it because this could be the all time winner in a contest of multi-talented vehicles – it could go to the beach from land or sea, and nothing would stop it, not river, land, mountain, snow or ice. Yehaaa… we really want that. With this vehicle you could even go to the beaches of Antarctica… well, at least hypothetically. Volkswagen Aqua
Gibbs Humdinga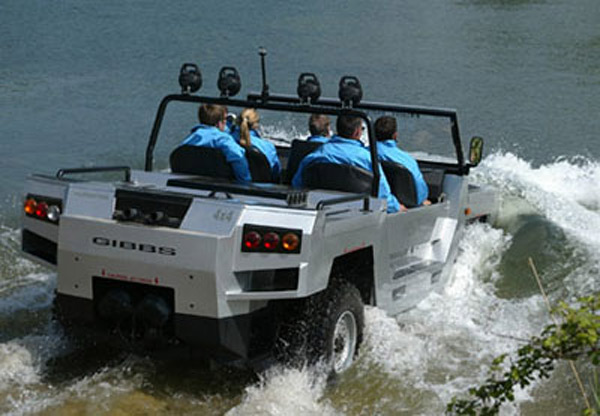 I chose the Gibbs Humdinga as a beach going vehicle for a rather unpleasant apocalyptic scenario, in which we may find ourselves desperatley looking for safe heaven in the sands of deserted island beaches.  The Humdinga is a huge vehicle, with off-road capabilities, 5 seats (3 front, 2 back!), V8 of 350 HP under the hood good for 100 mph (160 km/h) on land and and adequately 40 mph (65 km/h) on water. Gibbs Humdinga
Ariel Atom V8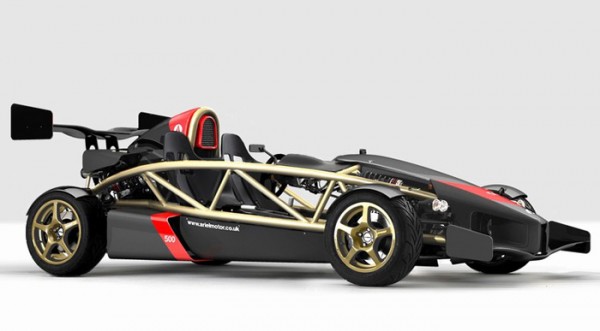 If you're in a hurry and maybe also an extreme sports aficionado, then the Ariel Atom in it's raging V8 powered form is the right way to do it. And if you're having a bad day you can put a big (rather forced) smile on your face by going full throttle and not wearing a helmet. Besides that, the Atom is easily one of the best ways to go to the beach – you only wear your shorts there, so why should your car have to wear all its clothes? By that I mean it should be stripped of everything superfluous, just like Ariel has done with its rear wheeled drived utterly powerful, mind twisting, smile bringing 475 HP and 550 kg of metal and petrol. Ariel Atom V8
Rinspeed sQuba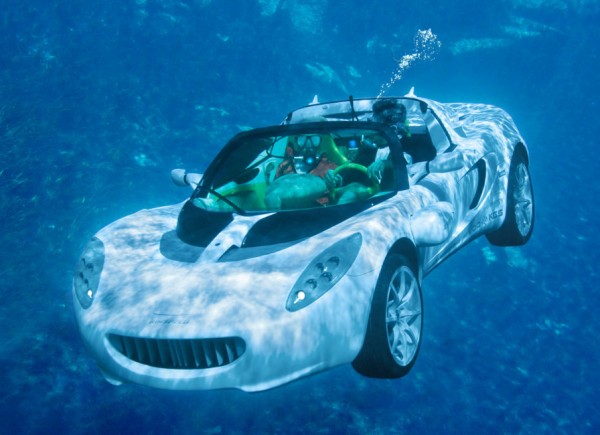 And the last, but surely not the least, we have a powerful example of the human imagination taken to the extreme. If only this kind of vehicle was more feasible for the real world. How many more people would tackle under water diving, discovering in a non-polluting way the astonishing wonders in our oceans? And, at the end of the day, you would be able to drive the thing back home. Yes, we would definitely put sQuba on our Christmas short list. The concept, stemmed from the brilliant mind of Swiss inventor and designer Frank M. Rinderknecht, would have been the first car capable of being driven on land and underwater. Rinspeed sQuba