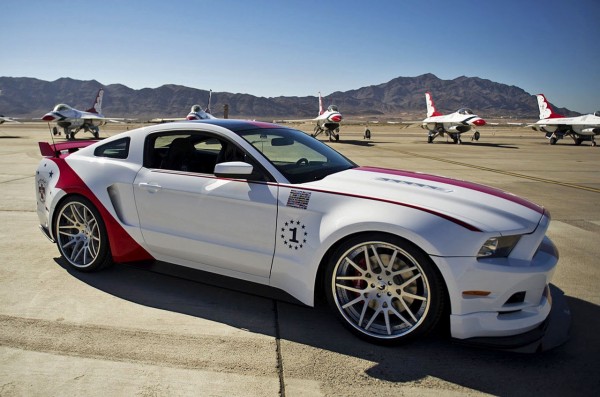 Next month, at the EAA Airventure in Oshkosh, Wisconsin, a one-off Ford Mustang GT will be sold at auction to benefit the EAA Young Eagles organization. The car isn't some sort of aftermarket custom job either. It's been built by Ford themselves, and bears the VIN 0001 for the 2014 model year.
Ford is the exclusive automotive sponsor of the EAA  (Experimental Aircraft Association) AirVenture – held this year from July 29 through August 4. The Young Eagles program provides free introductory flights to young people, and so far has carried more than 1.6 million youngsters since 1992.
The styling of the one-of-a-kind Mustang GT was inspired by the U.S. Air Force's Thunderbirds demonstation team, who are celebrating their 60th anniversary this year. The 2014 Mustang is painted in the familiar white, red and blue color scheme used on the display team's F-16 Falcon jets.

Modifications to the 2014 Mustang GT include a wide body package and a handcrafted and painted "belly pan" adorned with an F-16 Thunderbird graphic. TS Designs handcrafted the front and rear wide body elements, while Creations n' Chrome made the unique belly pan and other graphics. Forgiato created the stylish 22-inch wheels.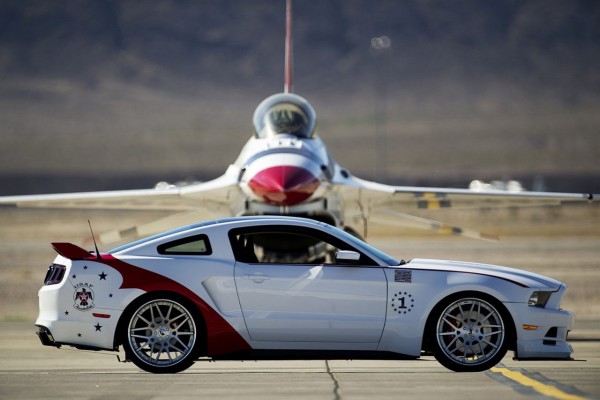 Unique interior details of the U.S. Air Force Thunderbirds Edition Ford Mustang GT include a modified navigation screen, instrument cluster and the removal of the rear seats. The front Recaro seats include an embroidered Thunderbirds logo. Additional features include unique sill plates and lights that project the aircraft silhouette onto the ground when the doors open.
To beef up the car's performance, the V8 has been fitted with a Ford Racing supercharger. While a suspension handling pack and Brembo brakes enhance the car's cornering and braking abilities.
The Thunderbirds Edition Ford Mustang GT will be sold on August 1st, 2013.
Source: Ford