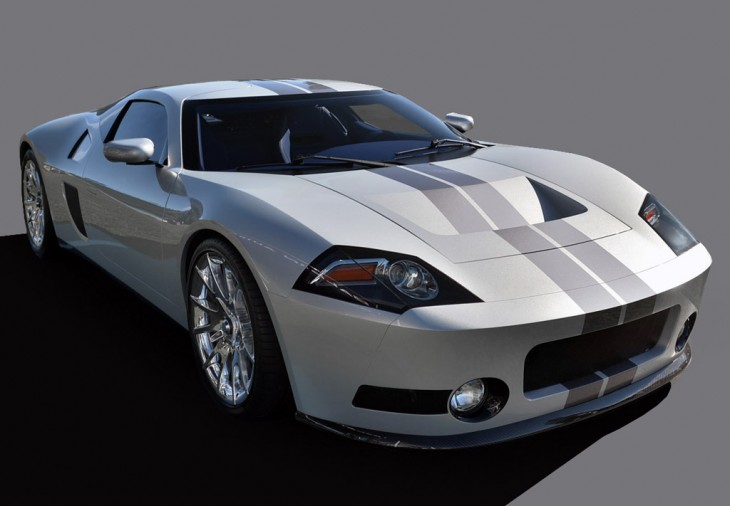 Late last year Galpin Auto Sports announced that they were working on something rather special. A Ford GT-based supercar which had the soul of the GT and a little sprinkling of the Shelby GR-1 concept. The car is now finished, and it just made its world debut at the 2013 Pebble Beach Concours d'Elegance in Monterey, California.
True to their word, Galpin hasn't disappointed with their GTR1 supercar. It's gorgeous, and more importantly it features a mid-mounted, twin-turbocharged, 5.4 litre V8 engine which produces a colossal 1024 horsepower and 739 lb-ft of torque. The styling of the Galpin Ford GTR1 is very clean and uncluttered, much like the GR-1 concept. However it also has numerous retro inspired elements, and to top it all off, the body is handcrafted from aluminium. If there's any critisism which can be made regarding the GTR1's design then it's the headlights. Not quite sure what they were going for there.

The interior of the Galpin Ford GTR1 is more or less identical to that of the Ford GT on which the car is based. The most obvious difference being the spectacular overdose of blue leather. Which quite frankly wasn't the best choice.
In the engine bay of the Galpin Ford GTR1 lies a 5.4 litre V8, the same block used in the standard GT. To boost power, quite considerably, Galpin have enlisted the help of two turbochargers which force feed the engine until it produces a total of 1024 hp and 739 lb-ft of torque. Fuel it with 100-octane juice and it will deliver 1,197 hp and 887 lb-ft of torque. Top speed of the GTR1 is said to be 225 mph, the 0-62 mph sprint over and done in just 3.1 seconds.
Other highlights of the Galpin Ford GTR1 include carbon-ceramic brakes with six-piston calipers, 20-inch forged aluminium knock-off wheels and a McIntosh sound system.
Galpin have said they currently only have plans to build six examples of the GTR1, each priced at a cool $1,024,000 (oddly that works out to exactly $1,000 per horsepower). If there's enough interest however, Galpin say they'll consider building up to a maximum of 24 cars.