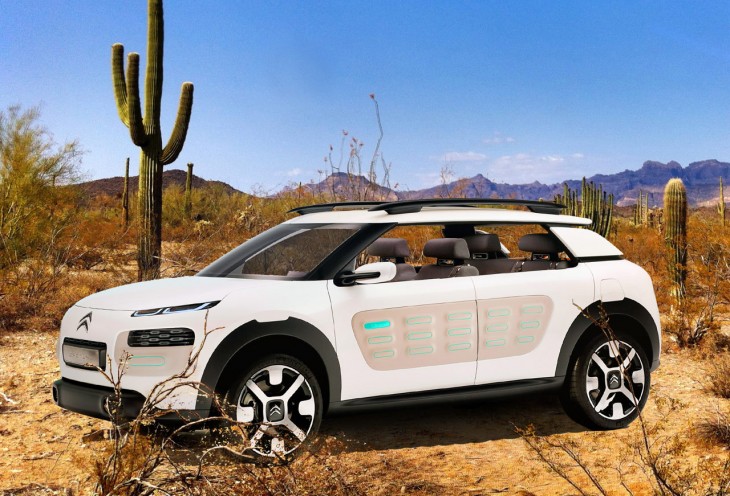 The Citroen Cactus concept was a development of the 2007 Citroen C-Cactus concept, and it was also a glimpse of what the future production model would look like. The concept made its world debut at the 2013 Frankfurt Motor Show.
The Citroen Cactus concept features the same rounded, cutesy styling found on the C-Cactus, but in this case it has been severely toned down. And while the more restrained look might be more sensible from a business point of view, it has unfortunatley lost some of the charm of the original concept.

A peculiar component of the Citroen Cactus concept are the 'Airbumps', located on the sides and bumpers of the car.  The supple material features a soft treatment that resists scratches and includes air capsules that absorb impacts. Think of it as trendy bubble wrap for the more easily damaged sections of the car. Door-dings shouldn't be a problem in the Cactus.
The interior of the Citroen Cactus concept has a bit of a retro vibe to it, despite the fact it features touchscreen displays and a digital instrument panel. The interior is light and bright thanks to a thermally-treated panoramic sunroof which allows light into the cabin, but repels heat and UV rays. Natural materials such as cotton fabric and vegetable tanned leather are used throughout the cabin, including on the steering wheel trim, seats and door handles.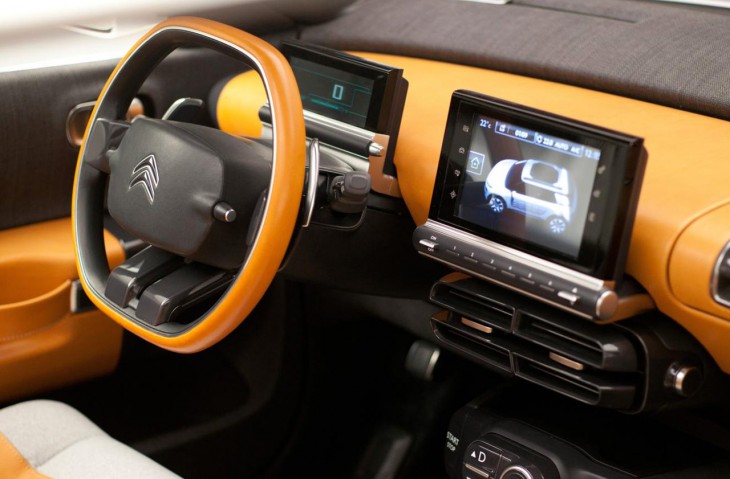 Powering the Citroen Cactus concept is an unconventional hybrid drivetrain. Instead of an internal combustion engine assisted by an electric motors, the Cactus employs an I/C engine and a compressed air motor.  Citroen say this combination offers 94+ mpg, is easy to maintain and service, and doesn't comprimise interior space. As a bonus, there aren't any heavy battery packs to lug around either.
Citroen Cactus Specifications:
Length: 4.21 m (13.8 feet)
Width: 1.75 m (5.7 feet)
Drivetrain: PureTech engine and compressed air motor
Fuel Economy: 94+ mpg (under 3l/100km)