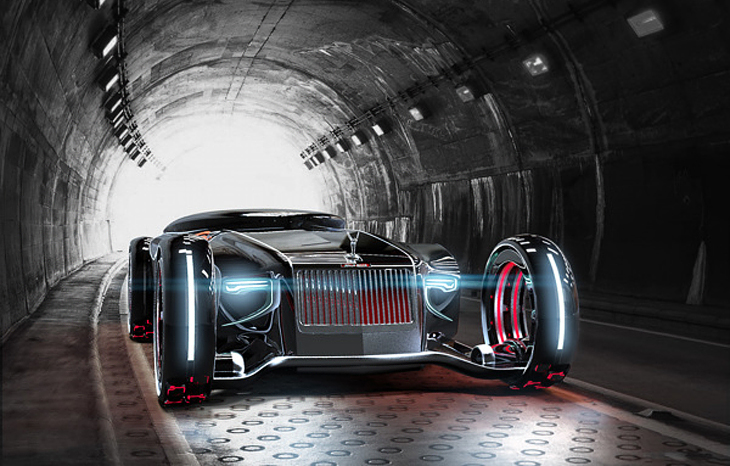 The Rolls Royce Eidolon concept is a futuristic, ultra-luxurious vehicle which was created by Ying Hern Pow of Singapore. It's a vision for a large luxury car with styling which is both futuristic and antiquated at the same time. The car has an extremely unique seating layout, and it uses autonomous technology to assist the driver.
In an effort to make the Rolls Royce Eidolon concept more maneuverable in built up cities – which will only get worse in the future – the vehicle features "Omniwheel technology" which allows it to move in any direction. It can literally turn on the spot, rotating around its own axis.

The Eidolon takes inspirations from modern luxury yachts, and the layout of a captain's bridge and lower decks are replicated in this vehicle – albeit in a more compact form. The driver sits in the center of the vehicle and can see out over the hood of the car through a thin slit-like window. There are passenger seats both in front and behind the driver. The passenger's view of the world is through electrochromatic glass – which allows the occupants to see out, but those on the outside can't see in.
The interior space of the Rolls Royce Eidolon concept is mazimized thanks to an electric drivetrain which consists of a battery pack under the floor, and individual electric motors for each wheel.
Overall it's a pretty wacky design. But isn't that exactly what a concept should be?
Source: WordlessTech
Related posts: