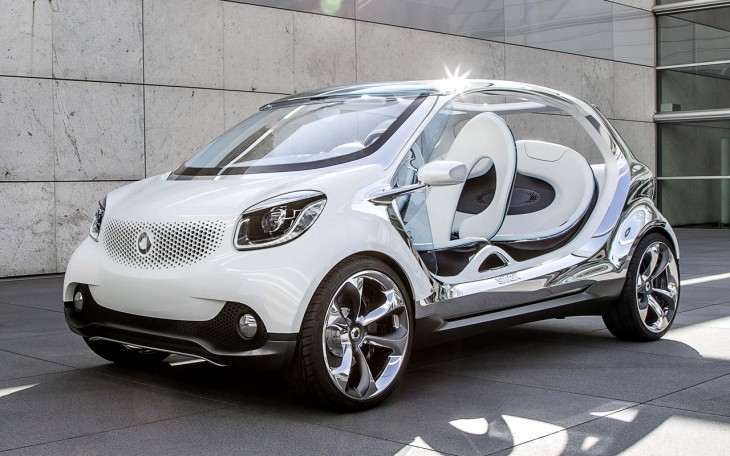 The smart fourjoy concept debuted at the 2013 Frankfurt Motor Show. It was a preview of the next generation smart fourfor production car.
With its compact dimensions and small turning circle, the smart fourjoy boasts the agility  and small space ability which makes the car a natural around congested city streets. Numerous design elements are a reference to the first smart model series. These include the extremely short overhangs, the wheels positioned on the four most outer points, the tail lights integrated in the sturdy tridion cell and the spherical instrument cluster.

Dr Annette Winkler, Head of smart, says: "The smart fourjoy is a study that successfully translates the unique design and the urban driving fun of the smart fortwo to an extremely compact four-seater. Numerous details of previous show cars that received very positive feedback have been incorporated in the fourjoy. The exterior proportions already reveal a lot about the appearance of our four-seater production smart which will be launched at the end of 2014 and will also enable families to travel together in a smart."
The exterior design of the smart fourjoy is rather eyecatching. Primarily because of the highly polished aluminium bodywork which is complimented by gleaming white paintwork. It's a pretty successful combination of materials, making the concept look fresh, clean and modern.
The most striking interior features are the two futuristic-looking front seats and the rear seat bench with a similar design. With their organic, sculptural shape they are reminiscent of modern lounge furniture.
The seats and the instrument panel are supported by a continuous central structure. It features a convex surface with touch-sensitive operating functions. The solid instrument panel support is made of transparent, illuminated plexiglass into which apertures have been milled. The striking multidimensional honeycomb structure was created by moulding on white plastic with a pearlescent effect in these areas.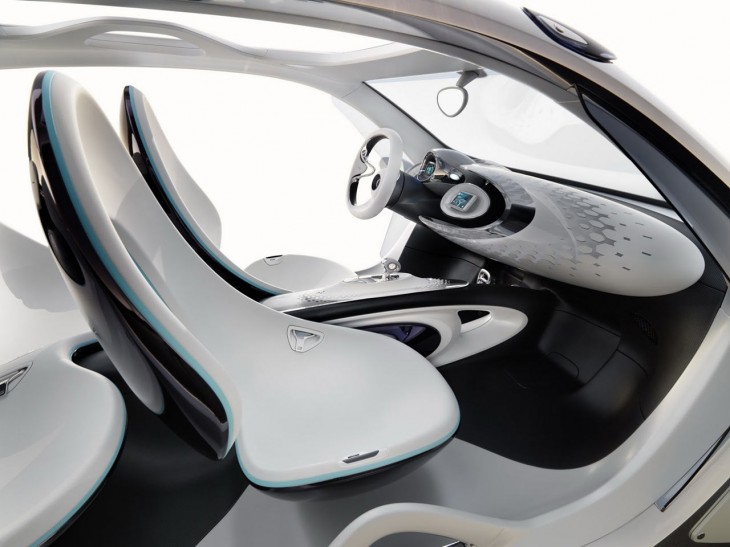 The design of the spherical instrument cluster and the single-spoke steering wheel are reminiscent of the original smart. Two smartphones are mounted on the dashboard and on the centre tunnel at the rear for cutting-edge connectivity and tailor-made entertainment for all four passengers.
Powering the smart fourjoy concept is a 55 kW magneto-electric motor. The lithium-ion battery has a capacity of 17.6 kWh. When completely empty it takes a maximum of seven hours to fully charge the battery from a household socket. The charging time at a wallbox or public charging station can be shortened to less than one hour with the 22 kW on-board charger and a rapid charging cable.