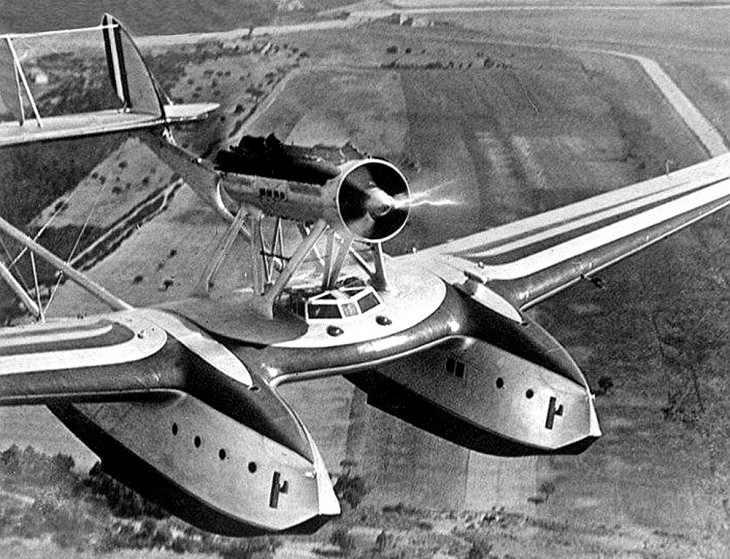 The Savoia-Marchetti S.55 was a strange-looking double-hulled flying boat manufactured in Italy during the 1920s. The aircraft, despite its unusual configuration, soon began accumulating world records for speed, payload, altitude and range.
The passengers and/or cargo were carried in the two hulls of the aircraft, while the pilot and co-pilot sat in a central cockpit. The aircraft was powered by two Isotta-Fraschini Asso 750V engines, each producing 880 hp. The engines were mounted inline and back-to-back. One had a tractor propeller, the other a pusher propeller. The whole assembly was mounted above the aircraft on pylons and it was tilted upwards to create extra lift.
The Savoia-Marchetti S.55 first flew in the summer of 1924. By 1926 it was in full production, and in that same year the S.55P prototype set 14 world records. However the S.55 became most famous for its repeated trans-Atlantic crossings.

The Brazilian João Ribeiro de Barros and his crew of three made an Atlantic crossing in S.55 "Jahú" on 24 April 1927. Departing from Santiago Island, he crossed the Atlantic in "Jahú" and landed at Fernando de Noronha Island, Brazil.
Pilots Francesco de Pinedo and Carlo del Prete took off from Sesto Calende, Italy, in an S.55 and headed west across the South Atlantic. Four months later, they arrived back in Italy, having flown nearly 48,280 km (30,000 miles) in 193 flying hours and having made just over 50 stops, including Rio de Janeiro, Buenos Aires and New York City.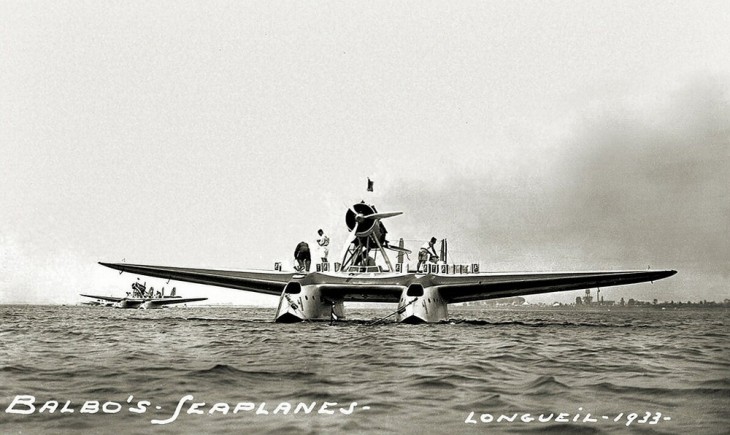 The Italian Air Marshall of the time, Italo Balbo became famous for organizing a squadron of S.55s for Atlantic crossings, culminating in his 1933 flight with 24 aircraft to Chicago's Century of Progress International Exposition. On 1 July 1933, General Balbo commanded a flight of S-55s from Orbetello, Italy, completing the flight in just over 48 hours, maintaining a tight "V" formation.
During World War II the Savoia-Marchetti S.55 served in limited roles due to its age and the fact there were much more capable aircraft being produced. The air forces of Italy, Spain, Brazil and Romania all used the S.55 – mainly for reconaissance, bombing, dropping depth charges and launching torpedos. The Soviet Union bought some for civilian use.
There were several variants of the S.55, and during its lifetime the aircraft was upgraded multiple times.
Today only one example of the Savoia-Marchetti S.55 still exists. It is the aircraft used by Cmdr. João Ribeiro de Barros in his crossing of the South Atlantic in 1927. The aircraft is preseved in Sao Paulo, Brazil in the TAM "Asas de um sonho" (Wings of a Dream) museum.