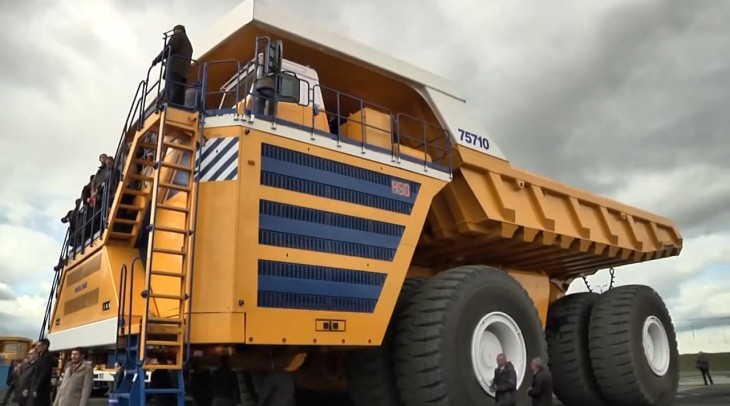 The landlocked Eastern European country of Belarus is home to Europe's last dictatorship, having been ruled by the corrupt and incresingly authoritarian Alexander Lukashenko since 1994. But putting that grim little statistic aside, Belarus also now lays claim to being the manufacturer of the world's largest dump truck. It isn't official yet, the Guinness World Record is yet to be confirmed, but that's just formalities. The current record holder can only carry 360 tons.
The BelAZ 75710 can carry 450 metric tons of whatever-you-want in its massive  bucket. It's primary mission will be to haul rocks and rubble away from large open mines. Powering the BelAZ 75710 dump truck are two 65-litre 16-cylinder turbocharged diesel engines. Together they produce 4,600 horsepower and  13,738 lb-ft of torque! Top speed is 40 mph.

The truck can operate in temperatures ranging from minus 50C to plus 50C. The cab has room for two and is protected from noise, vibration and dust particles. The tires are from Michelin.
Video of the world's largest dump truck below – in Russian.