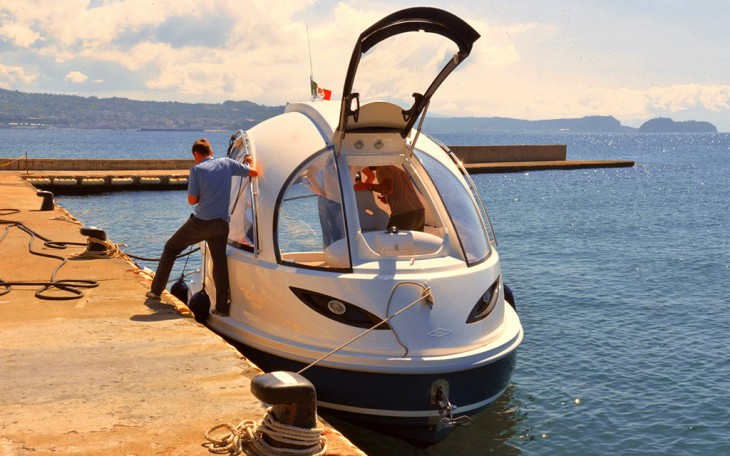 At the 2013 Monaco Boat Show, Italian designer Pierpaolo Lazzarini showed up with a curious watercraft called the Jet Capsule. It's basically a highly compact and versatile vessel which its creator says is a "mini yacht". The vessel is built in the Italian port city of Naples by the company Jet Capsule S.r.l.
The Jet Capsule features a composite carbon fiber hull and a hydro-jet propulsion system. It can be fitted with either one or two (petrol or diesel) engines, with power output ranging from 315 to 800 hp. An electric-powered version is also being worked on. On board, the Jet Capsule features a covered deck and seating area which accommodates up to eight passengers. There are also automatic closing doors, a rooftop sunbed, a rear diving platform, a convertible bedroom, toilet and it can even be customized to include a kitchen. The company have also developed a number of alternative uses for the Jet Capsule, ranging from an armored military version, to a DJ booth-equipped party version.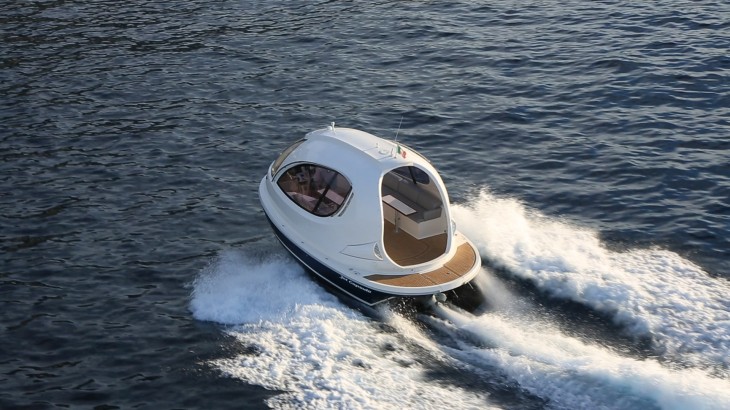 At the moment the Jet Capsule is only offered in one size 7 m (23 ft), with a  3.5 m (12 ft) width. However an even smaller version, the MiniJet Capsule is in development. The MiniJet Capsule is a mere 5 metres (16 ft ) long.
Prices for the Jet Capsule have not yet been announced. However judging by the array of options available, fancy carbon fiber hull, powerful engine options and exclusive and highly custom nature of the vessel. The prices are probably not as small as the Jet Capsule itself.
Source: Lazzarini Design and Jet Capsule