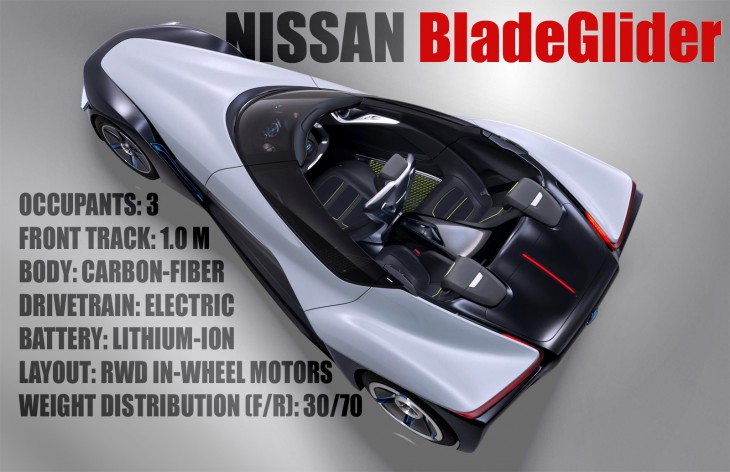 Nissan's experimental triangular race car, the Deltawing, has attracted its fair share of attention over the last couple of years. And more recently the company have played with the idea of fitting it with an electric drivetrain – resulting in the Nissan ZEOD RC prototype.
However the uncoventional layout has previously only been used on vehicles confined to the race track, or test track. Now however, with the introduction of the Nissan BladeGlider concept, it looks like the company is looking to possibly bring the platform to a wider audience.
Nissan themselves say the BladeGlider is more than just a concept, they state that it is both a proposal for the future direction of Nissan electric vehicle development and an exploratory prototype of an upcoming production vehicle.

The design of the Nissan BladeGlider was led by Francois Bancon, division general manager of Product Strategy and Product Planning at Nissan. Commenting on the project he said: "The goal was to revolutionise the architecture of the vehicle to provoke new emotions, provide new value and make visible for consumers how Zero Emissions can help redefine our conception of vehicle basics".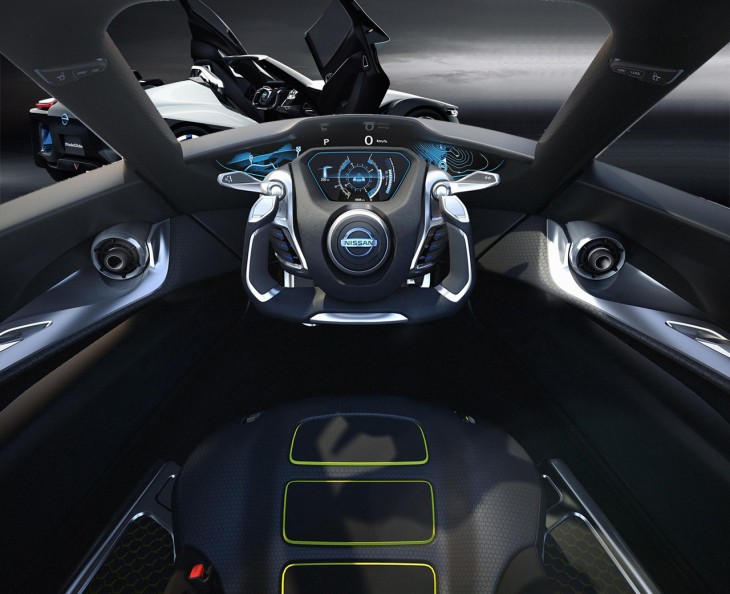 The overall shape and design of the Nissan BladeGlider concept was influenced by two aerial sourced; the soaring, silent, panoramic freedom of a glider and the triangular shape of a high performance "swept wing" aircraft.
With its narrow, 1.0 metre front track and wide, stable rear track, the Nissan BladeGlider looks slightly odd. But the unusual architecture all boils down to aerodynamics and balance. Having the front wheels close together reduces drag and enhances manoeuvrability for high-G cornering power, assisted by its 30/70 front/rear weight distribution. Aerodynamic downforce is created by the highly rigid yet lightweight carbon-fibre underbody, hence the lack of drag-inducing wings.
When the Nissan BladeGlider matures into a production car, it could be Nissan's first use of in-wheel motors. The in-wheel motors provide rear-wheel propulsion with independent motor management, while also contributing to freedom of upper body design and space-efficient packaging.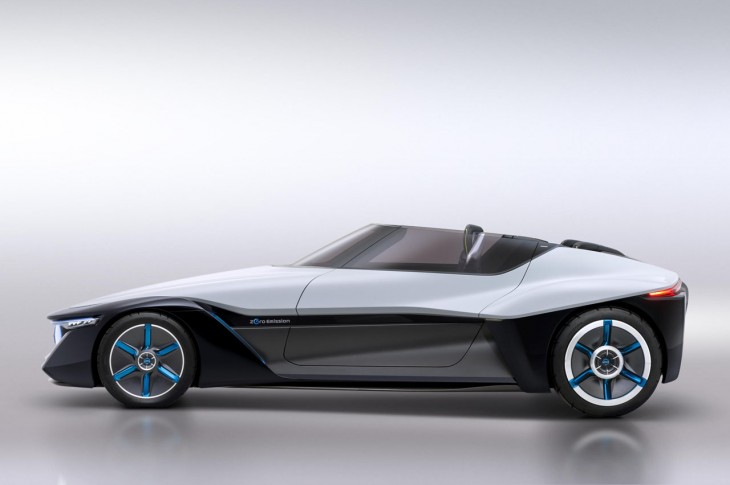 Starting from the low, flat and narrow nose, the bodywork rises gently to the cockpit canopy and then curves back over the large rear wheels. Inside the canopy, the cockpit seats three in a triangular configuration with the driver centre-forward. An aircraft-type steering wheel and state-of-the-art instrumentation are designed to complete the aircraft-like feel.
"I think that the excitement of the racing car should be mirrored in the excitement of driving the road car," said Ben Bowlby, director of Nissan Motorsport Innovation, who has supported the BladeGlider's development. "I think there are elements we can bring from the race track to make these future road cars more exciting, more fulfilling and give greater driving pleasure."
Source: Nissan