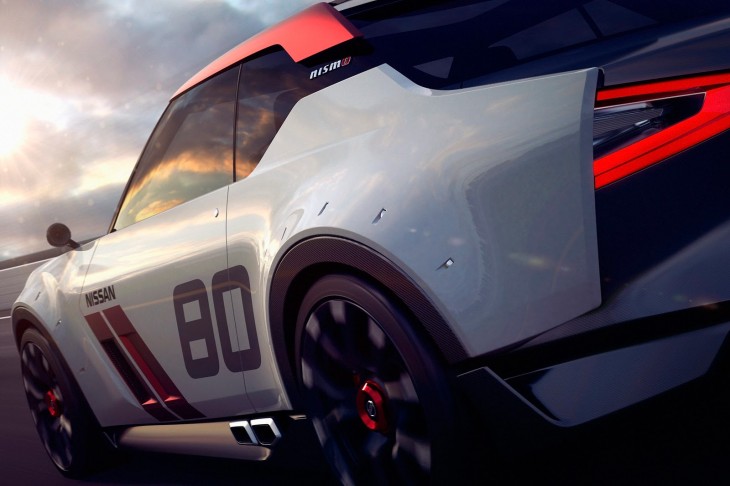 At the 2013 Tokyo Motor Show, Nissan unveiled a matching pair of concept cars. One is a retro-inspired lifestyle vehicle – a bit like a modern day Nissan Figaro – except much, much better. While the other is a retro-futuristic racer. Both are bordering on awesome.
The idea behind the pairing was to create two similar cars but with very different identies, hence the ID (identity) x (unknown) name. Both the IDx Freeflow and IDx NISMO concepts have been designed to appeal to younger buyers – those born after 1990. Or as Nissan has decided to call them, "digital natives". In developing the concepts Nissan engaged with potential consumers from this generation to see what features and ideas they would like to see incorporated into their vehicle.
Several unique approaches were made from a structural standpoint so the IDx concepts could take on various appearances. For example, the front and rear bumpers, as well as the side panels and doors can be easily interchanged. This contruction method allows the car to differentiate itself from others through the side and front face, with vast freedom for customisation.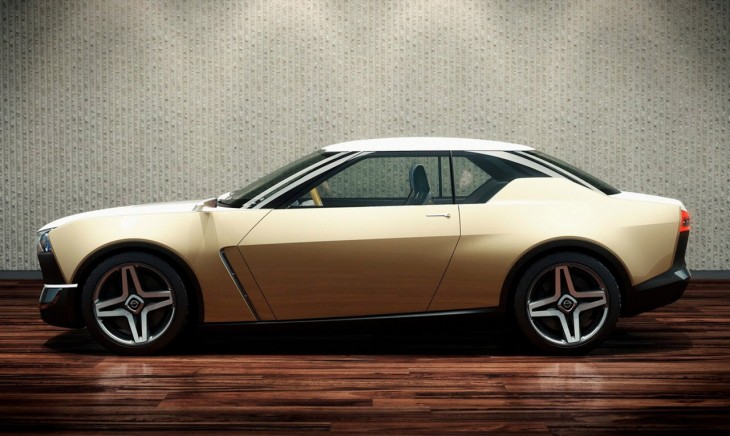 The Nissan IDx Freeflow is the more pedestrian of the two concepts, conceived more as a taseful and stylish daily driver. The designers wanted something simple and clean, a car which would stand out, but without being gaudy or showy. The subdued colors were chosen to represent the casual combination of a white T-shirt and khaki-colored chinos. The car is fairly compact in size, measuring about 4.1 metres in length, 1.7 meters in width, and 1.3 metres in overall height. It features a "floating roof" which has been created by hiding the A and B-pillars behind glass, and also coloring them black.
On the inside the Nissan IDx Freeflow offers space for four occupants. It has a simple, no-fuss appearance which is both classic and modern at the same time. There is a combination of analogue and digital instrumentation, and also a mix of trim and upholstery including; brushed metal highlights, denim seat covers, black carpets and a cream-colored dash and center console.
Nissan say the IDx concept could be powered by a variety of small displacement (1.2 – 1.5 litre) gasoline engines connected to a CVT transmission.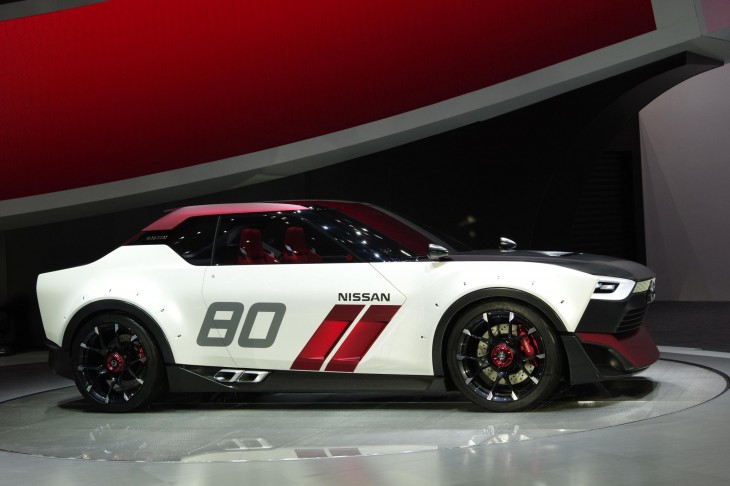 The second of the IDx concepts is quite a bit more exciting than the first. Called the Nissan IDx NISMO, the primary purpose of this vehicle is immediatley clear, racing.  Nissan say that many of the IDx NISMO's designers grew up playing racing simulation games that feature cars of the past and from all corners of the globe, and that the concept is the result of hours of a desire to recreate that virtual driving experience in a real car of their own making.
The Nissan IDx NISMO concept is wider than the Freeflow at 1.8 metres, and it also features 1-inch larger 19-inch wheels. Both the exterior and interior are more exciting. On the outside are wider arches, a more aggressive front and rear bumper, a new roof, vented hood, and of course lots of graphics.
Inside the IDx NISMO features the same basic layout as the Freeflow, except everything is sharper, more focused, and a lot redder and more carbon-fibery.
The proposed powersource for the IDx NISMO is a turbocharged and direct-injection 1.6 litre engine mated to a 6-speed CVT with manual shift modes.
Both cars should, but probably won't, get built.
Source: Nissan