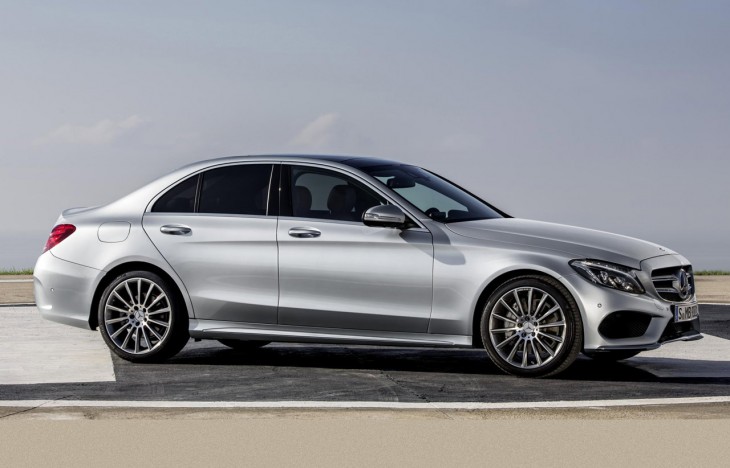 For 2014 the Mercedes-Benz C-Class is all-new. New body, new chassis, new interior, new engines. It's larger, lighter, better equipped and more efficient than its predecessor. The C-Class is the biggest-selling model series from Mercedes-Benz. Sales of the preceding model, which was launched in 2007, total over 2.4 million worldwide.
The C-Class has grown in size, with an 3.1 inch (80-mm) increase in the wheelbase compared with the previous model, the vehicle is 3.7 inches (95 mm longer) and 1.6 inches (40 mm) wider. But it's also roughly 100 kgs (220 lbs) lighter. Mainly because of a new lightweight aluminium hybrid body. The proportion of aluminium used in the bodywork and chassis has risen from under 10 percent in the last model, to nearly 50 percent in the new car.

Visually its clear the new C-Class is taking its design cues straight from the new and highly popular CLA. Just look below to see how similar the two cars are in terms of exterior design. But seeing as how the new CLA has proved to be a real hit with buyers, Mercedes are probably onto a winner with the new C-Class' styling.

"Mercedes at its best – that's the new C-Class, which sets new standards for the mid-range segment on many fronts," says Prof. Dr Thomas Weber, Member of the Board of Management of Daimler AG responsible for Group Research and Mercedes-Benz Cars Development. "It is characterised by an emotional yet clear design which is continued in the high-quality and modern interior. Its efficient and high-performance engineering provides the basis for a high standard of driving enjoyment."
The interior of the 2014 C-Class looks like a great place to find yourself. Classy, well equipped and extremely tasteful.
In vehicles equipped with an automatic transmission, a large one-piece centre console panel performs an elegant sweep from the centre air vents to the armrest. These seamless clear-cut lines create a sense of open space and convey a thrillingly purist and modern feel.
On vehicles with manual transmission, the centre console is slightly steeper and features two separate trim elements in order to create ample space for ergonomic operation of the shift lever.
A centrally positioned free-standing central 7-inch display is the main eye-catching feature across the centre console – 8.4 inches if COMAND Online is specified.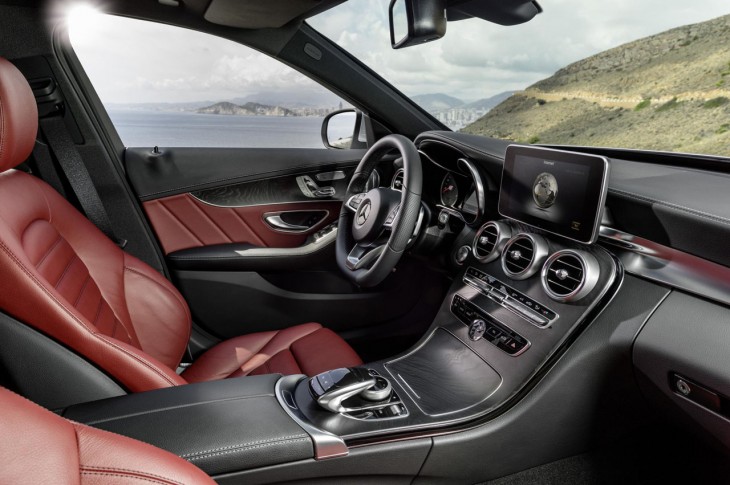 The innovative touchpad in the handrest over the Controller on the centre tunnel is another technical highlight. As on a smartphone, this provides for very simple and intuitive operation of all the head-unit functions using finger gestures. The touchpad also permits letters, numbers and special characters to be entered in handwriting – in any language. The user receives clear haptic feedback when operating the touchpad's control surface.
From launch, and depending on the market, the 2014 C-Class will be available with a choice of different drivetrains.
The US will be treated to the C300 4Matic – powered by a turbocharged 2.0 liter four-cylinder developing 235 horsepower and 273 lb-ft of torque, and the C400 4Matic which is fitted with a 3.0 litre V6 producing 329 horsepower and 354 lb-ft of torque. Both come with a seven-speed automatic transmission and all-wheel drive.
The three launch models available in Europe include the C180, C200 and C220 BlueTEC diesel.
Model
Displacement (cc)
HP
Nm
0-62 mph (seconds)
mpg
CO2
g/km
C 220 BlueTEC
2143
170
400
8.1
70.6
103
C 180
1595
156
250
8.2
56.5
116
C 200
1919
184
300
7.5
53.3
123
Soon after the initial market arrival (in Europe), Mercedes-Benz will expand the range of engines including a new, small diesel engine with a displacement of 1.6 litres. Reduced weight, compact design and 4low fuel consumption are among its special merits. Depending on its configuration, the single-stage supercharged four-cylinder engine generates 115 or 136 hp of power from a cubic capacity of 1598cc and delivers 280 or 320 Nm of torque.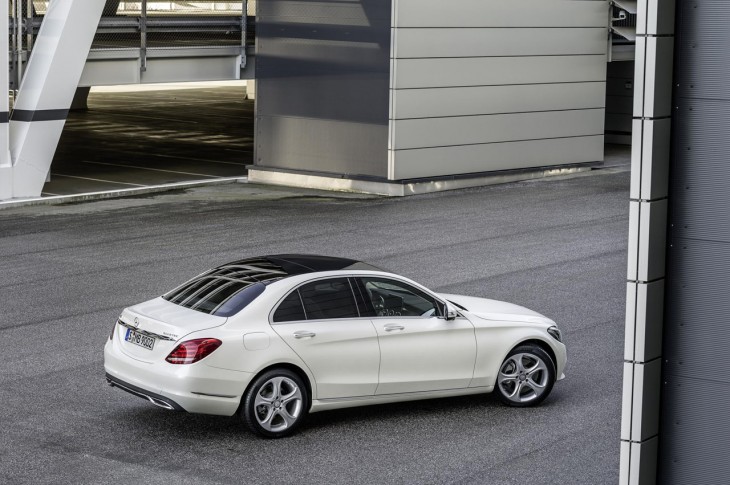 In addition to this new small diesel engine, an advanced version of the proven 2.2-litre four-cylinder diesel engine is also to become available in several output variants.
As in the S and E-Class, Mercedes-Benz will additionally be offering a diesel engine combined with a hybrid module. The C 300 BlueTEC HYBRID with four-cylinder diesel engine and a compact electric motor generates an output of 204 + 27 hp and runs on only 72.4 mpg in NEDC combined mode (provisional figure). A further particularly economical hybrid model, which is to follow in time, will feature state-of-the-art plug-in technology.
Source: Mercedes-Benz