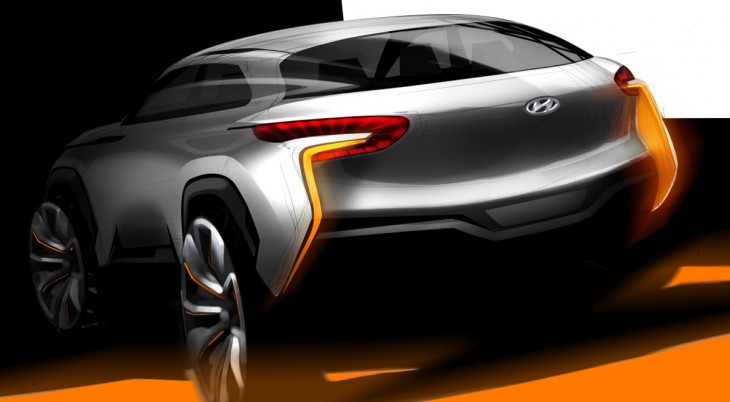 It might be three months away, but that hasn't stopped Hyundai from announcing that they will show up to the 2014 Geneva Motor Show with an all-new concept. Called the Hyundai Intrado, the concept features Hyundai's latest styling theme, called Fluidic Sculpture 2.0. Hyundai say the concept features a lightweight structure which uses advanced materials and revolutionary construction methods.
The Intrado concept also features a next-generation hydrogen fuel cell drivetrain that is both smaller and lighter than that powering the assembly-line-produced Hyundai ix35 Fuel Cell.

The Intrado will be the first Hyundai concept car inspired byFluidic Sculpture 2.0. The result of close collaboration between Hyundai's design and engineering teams, Intrado was styled and engineered primarily at Hyundai Motor European R&D centre in Rüsselsheim, Germany – as indicated by its codename, HED-9 (Hyundai Europe Design).
The Hyundai Intrado takes its name from the the underside of an aircraft's wing. Hyundai say some of the technical elements of the concept take inspiration from aircraft, such as the use of advanced materials and the removal of all unnecessary weight.
Peter Schreyer, President & CDO of Hyundai Motor Group, said of the concept: "Hyundai Intrado envisages a motoring future that encapsulates the efficiency and freedom associated with flying. I believe in the power of mobility to deliver emotional as well as physical connections and this car helps us find again the joy of discovery. Intrado shows that future cars can be relevant and exciting."
More information on the Intrado concept closer to the Geneva Motor Show reveal date.
Source: Hyundai