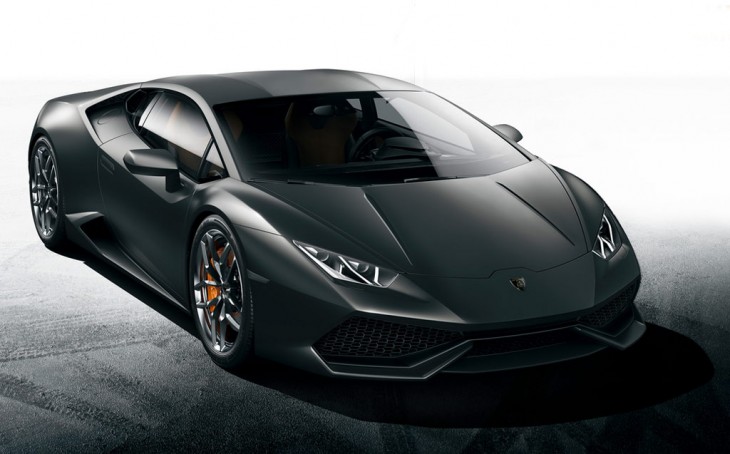 After ten years of production, during which over 14,000 have been manufactured, the Lamborghini Gallardo is finally ready to retire. It's replacement is this, the Lamborghini Huracan. Or to give it its full title, the Lamborghini Huracán LP 610-4. Following in the long naming tradition Lamborghini has established over the years, the Huracán is named after a famous Spanish fighting bull from the 1800's.
The new entry-level Lamborghini is clearly a logical progression of the Gallardo's styling. It's nice, but hardly revolutionary – especially coming from a company who pride themselves on flagrant, radical designs. Despite looking more or less like a slightly flattened and smoothed out Gallardo, the Huracan is all-new. It also borrows a few styling cues from its big brother, the Aventador. Specifically in the eye-catching LED headlights and taillights.

Powering the Lamborghini Huracan is a new 5.2 litre V10 engine which produces 610 horsepower @ 8,250 rpm and 413 lb-ft (560 Nm) of torque @ 6,500 rpm. Thanks to direct injection, the engine produces more power than that of the Gallardo, while also consuming less fuel. Top speed of the Lamborghini Huracan LP 610-4 is 202 mph (325 km/h), and the 0-62 mph (100 km/h) run is over in just 3.2 seconds.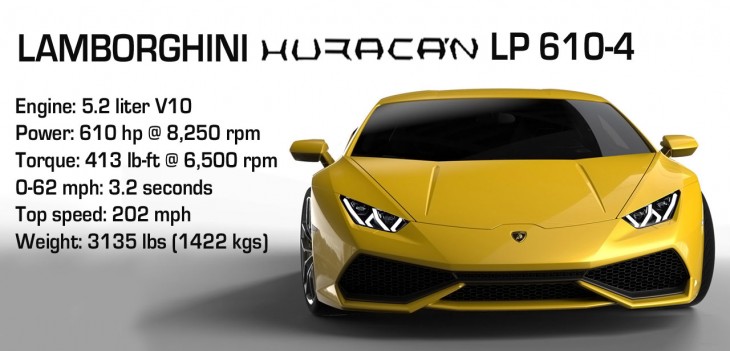 The transmission is a 7-speed dual clutch unit which sends power to all four wheels via an electronically controlled four-wheel drive system. Different driving modes can be selected via a switch mounted on the steering wheel. Three options are available: STRADA, SPORT and CORSA. The different settings alter various systems, including the engine behaviour, shift points, four-wheel drive system and stability control system.
The Lamborghini Huracan comes standard with carbon ceramic brakes, while the "Lamborghini Dynamic Steering" variable steering ratio system and magneto-rheologic suspension damper control are both available as options.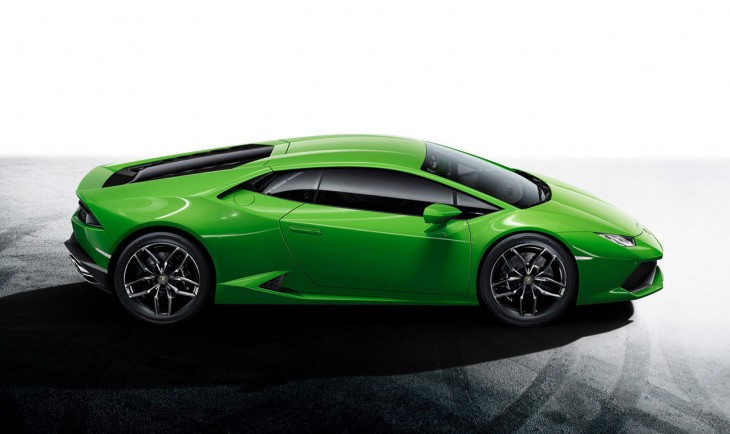 The chassis of the Huracan is a hybrid structure composed of carbon fiber and aluminium components. This light yet strong platform helps the car weigh in at just 1,422 kgs (3,135 lbs), and enables it to offer a power-to-weight ratio of just 2.33 kilograms per horse power.
Inside, the Lamborghini Huracan features a futuristic and purposeful-looking cabin. Highlights include a  12.3-inch TFT multi-configuration instrument panel, as well as fine Nappa leather and Alcantara suede upholstery.
The first Lamborghini Huracan LP 610-4s will be delivered to customers in spring 2014. The car will make its first public debut at the 2014 Geneva Motor Show.