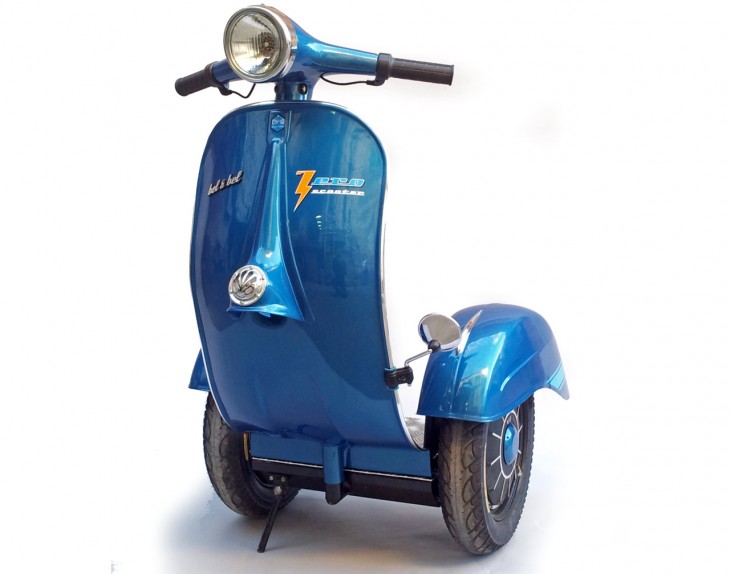 Spanish design firm Bel & Bel have recently unveiled a fabulous vintage Vespa styled personal mobility vehicle. It's based on an Elite WS – not a Segway – but a vehicle which uses the same principle of two electric-powered wheels and a computer-controled gyroscopic stabilizing system.
The Zero Scooter by Bel & Bel Studio is handbuilt to order, and each can be customised by the buyer, with paint color, trim and decoration all bespoke. Bel&Bel will even put company logos on the bodywork if you want to use it for promotional stuff.

Like a Segway, the Bel & Bel Zero Scooter only takes a short time to master – ten minutes according to its creators. Having ridden a Segway, I can say that's probably more than enough if you have an average-to-good sense of balance.
Electric powered, the Vespa Zero Scooter can reach a top speed of 12 mph (20 km/h), and cover roughly 18 miles (30 km) before needing a recharge. Bel & Bel say the vehicle can climb slopes of up to 30 degrees – which is pretty impressive. Also like a Segway, it can turn around its own axis.
In terms of price, I think the 2,899 EUR ($3,983) Bel & Bel are asking is pretty fair. It's similar to what you'd pay for a regular second-hand 50cc Vespa scooter in Spain, but way more eye-catching.
Zero Scooter by Bel & Bel Studio Specifications:
Weight: 51 kgs (112 lbs)
Maximum driver weight: 130 kgs (285 lbs)
Battery: Lithium-ion 36-42V 2000W
Motor: 2 x 1000W