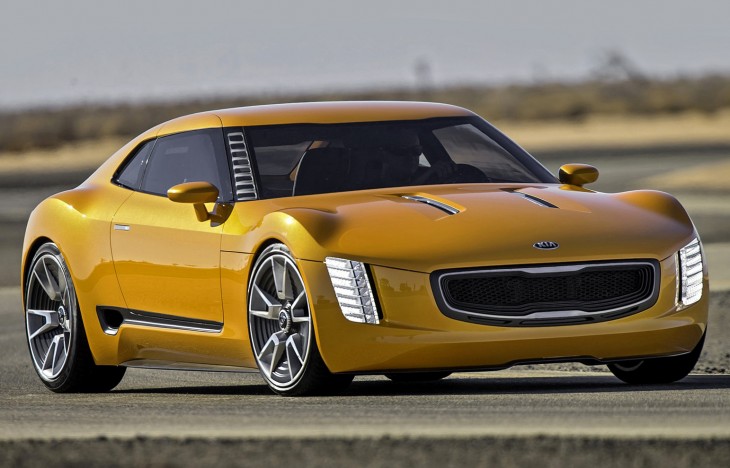 The Kia GT4 Stinger was a 2+2, RWD sports car concept from 2014. The concept featured the latest version of Kia's signature 'Tiger Nose' grille flanked by stacked horizontal LED headlights. Front-brake cooling vents funnel air around 20-inch wheels whilst a carbon fibre front splitter mounted below the bumper provides added downforce.

Powering the concept is a 2.0 litre turbocharged engine which provides an extremely generous 315 horsepower solely to the rear wheels via a close ratio six-speed manual transmission.
The Kia GT4 Stinger rides on custom 20-inch aluminium centre-lock wheels which feature carbon fibre inserts for strength and weight reduction. Tucked inside the massive wheels are Brembo Gran Tourismo two-piece cross-drilled rotors with four-piston callipers.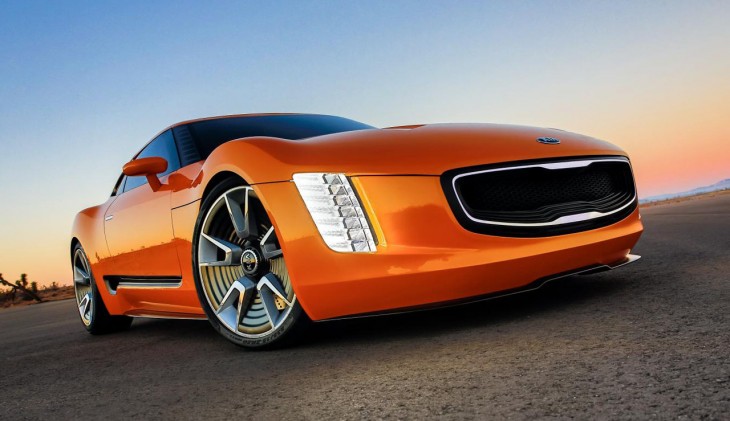 "Driving enjoyment was the number one priority in designing the GT4 Stinger," said Tom Kearns, chief designer, Kia Design Center America (KDCA). "It's an authentic 2+2 sports car that can turn heads as a daily driver while also being right at home on the track. It's about purity, simplicity and timelessness. The GT4 Stinger is a throwback to days when driving a car was a visceral experience that wasn't muted by electronic gimmickry."
The interior of the Kia GT4 Stinger is both purposeful and practical. There is no carpet, only a rubber floor mat underneath the billet-aluminum pedals. Front and center to the driver is a thick D-shaped steering wheel and red LED-illuminated instrument panel with large tachometer and gear indicator. In keeping with the track theme and taking inspiration from sports and competition cars of the past, interior door handles have been replaced by red-stitched pull straps. In fact the cockpit is so sparse, it doesn't even have a stereo.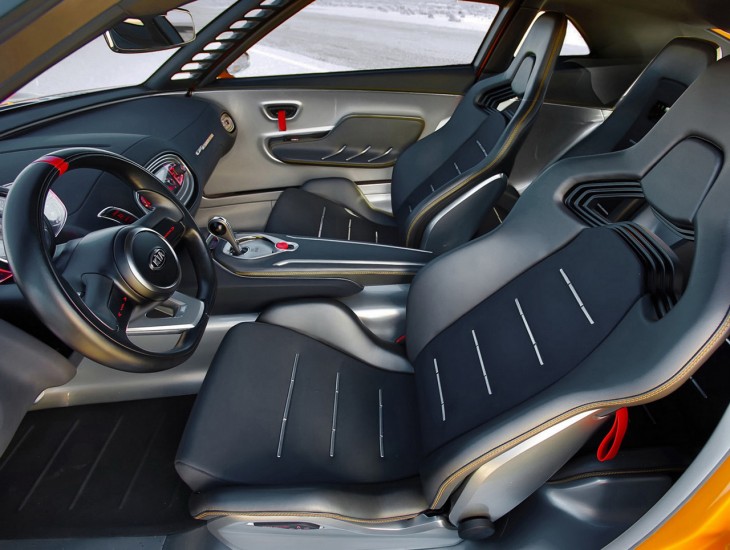 While there are currently no plans to bring the GT4 Stinger concept to production as is, the company does hint that the car may provide a glimpse of a possible future sports car. No price point has been mentioned for the GT4 Stinger yet.