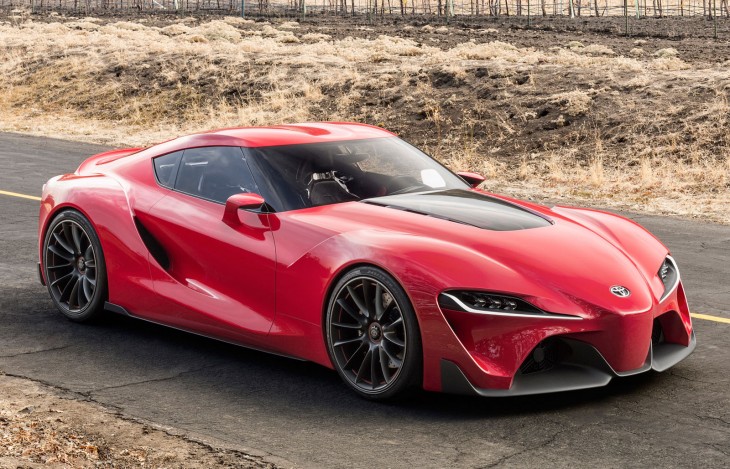 The Toyota FT-1 is curvaceous sports car concept which looks modern and futuristic, yet still manages to draw on Toyota sports cars of the past, going right back to the sensational 2000GT from the '60s. Its name is derived from Future Toyota (FT), and the number "1" – as in ultimate.
The Toyota FT-1 concept was developed at the company's Calty design studio in California, a facility which is celebrating their 40th anniversary this year. The exterior design of the FT-1 is supposed to reference modern race cars, with pronounced  front wings and wide, deep air intakes.

The front engine/rear-wheel drive configuration of the FT-1 allows the cockpit to be located further towards the rear of the car, within the wheelbase, helping improve weight distribution and create classic sports car proportions. The wraparound windscreen and side glass arrangement are a clear nod to the design of the original 2000GT. Toyota say other vehicles which influenced the FT-1's shape include the Celica, Supra, and most recently, the FR-S (GT86 in Europe). The car is also somewhat reminiscent of the FT-HS concept from 2007.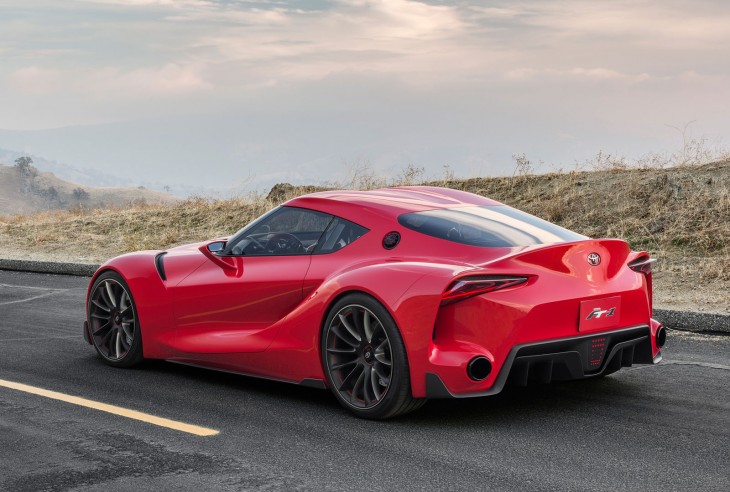 On the inside the Toyota FT-1 concept features a fairly Spartan cabin which looks more like place of work than leisure. This purposeful and competition inspired theme is reinforced by the Formula 1-style steering wheel and a color head-up display that projects key information just above the wheel. Additionally, the designers have pushed the A-pillars as far back as possible, to increase visibility when cornering.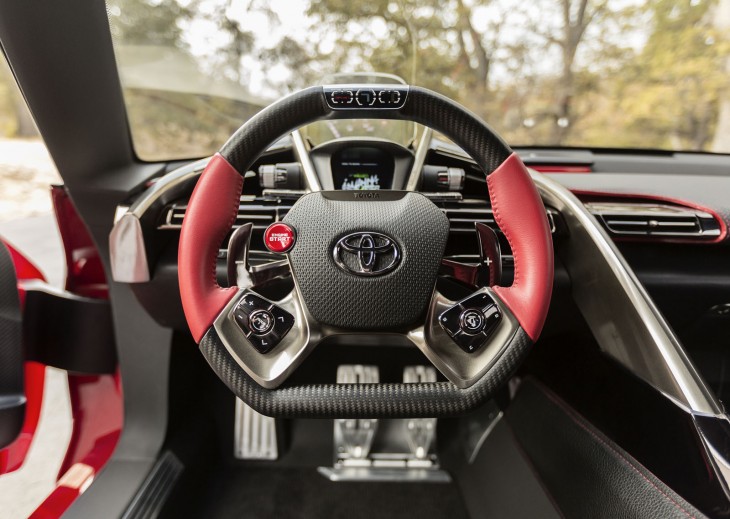 In a move which should make all car enthusiasts perk up – whether they're Toyota fan boys or not – is the fact Toyota has explicitly stated that the FT-1 concept is the first vehicle designed to showcase a new, more exciting design theme for the entire Toyota brand. Although it more specifically lays the groundwork for the next generation of Toyota sports cars – namely the Supra.
Toyota haven't said yet what exactly is powering the FT-1 concept, or what sort of performance it will offer. But judging by the photos, there's plenty of room for a healthy-sized engine under the plexiglass hood window, and a sequential transmission operated by paddles behind the steering wheel.
The Toyota FT-1 was also made available in the latest version of the Gran Turismo racing game GT6. The car can either be won by gaining a podium finish in the FT-1 Challenge at Laguna Seca, or by purchasing the vehicle from a Toyota dealership in the simulator.
Toyota haven't mentioned what sort of price they have in mind for any possible FT-1 production model.
Source: Toyota