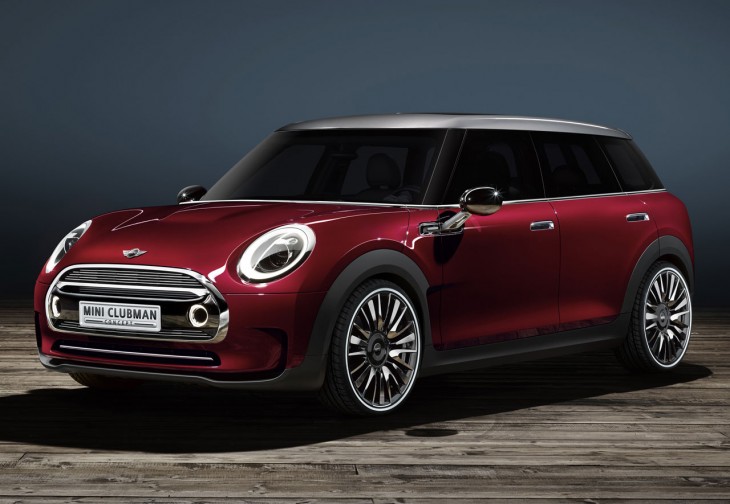 At the 2014 Geneva Motor Show, the star of the MINI stand will be the MINI Clubman concept, a vehicle which provides a taster of the next-generation Clubman, which is due to appear within the year.
The MINI Clubman concept is longer and wider than the current car. It also has a more conventional door arrangement than the current Clubman – which used an odd 2+1 layout. In fact the whole car looks a bit more grown-up and sensible.
MINI say this more mature and sophisticated iteration of the Clubman is made even more upmarket by the use of high-quality details and a more elegant cabin. Adrian van Hooydonk, Head of BMW Group Design, said of the car: "The MINI Clubman Concept shows how the MINI Clubman could be taken a step further: more interior space, a greater sense of high-end quality and yet still clever, bold and distinctive. In short: more car, more MINI."

Take from that what you will. But to me it sounds too boring for a company like MINI. The first generation of new MINIs were great. Great to drive, great to look at, and they had a quality feel about them which forced other small car manufacturers to significantly improve their products in order to keep up. But in the last few years MINI have shown that they're getting pretty low on originality juice in their design department. Resorting to just sticking the same tried and tested cutesy face on varying sizes of car. It's about time they tried something different, earned their pay as designers, made something that caused as big a splash as the first-gen new MINI. This isn't it.
But of course, as ever, it comes down to money. MINI is a business, not a collective of artists trying to make the world a more interesting place to live, and in business terms the new Clubman will probably do quite well. The new door layout will appeal to buyers perhaps previously put off by only having three doors on a car which, for practical purposes, should have four. current MINI fans will like the fact that it looks just like all the other MINIs out there. And who can argue with improved quality and materials.
But somewhere along the line MINI is going to stop being the trendy option. And cars like this will only speed that up.