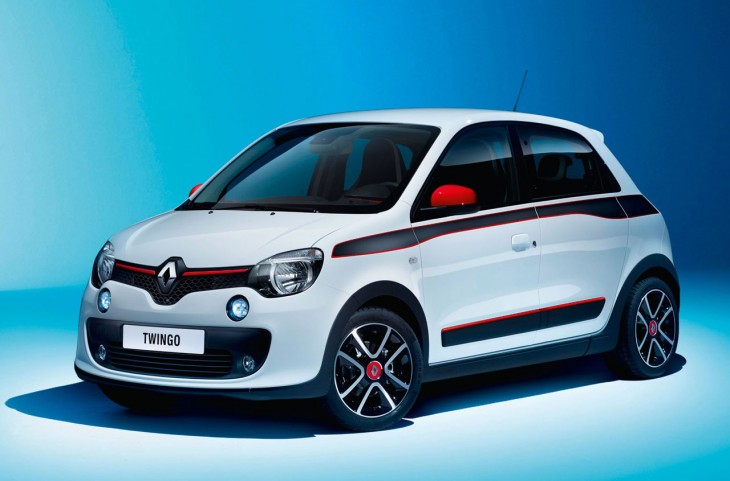 The first generation Renault Twingo from 1992 was a bit of an odd ball. Odd looking, yet somehow lovable. It was a small budget car, and it didn't pretend to be anything but a cheap runabout. But at the same time it had a distinctive style about it which was created by Renault's famed designer Patrick le Quément. Underneath however it was very dull. With a range of small-displacement 4-cylinder engines producing anywhere from 55 to 75 horsepower.
But fast-forward to today, and Renault might have come up with something just a little bit special. You see, instead of playing it safe and making yet another front-wheel-drive hatchback similar to those found in just about every driveway across Europe, they've decided to make the third-generation Twingo a rear-engined, RWD model.

It looks good too. A fair match for the more stylish hatchbacks it'll be competing against, like the Fiat 500, Audi A1 and new Opel Adam. The design was partially inspired by the classic Renault 5. This influence can be found in the rake of new Twingo's rear screen and its prominent shoulders which are reminiscent of the rear-engined Renault 5 Turbo.
Meanwhile, the new Renault Twingo's five-door layout – a first in the history of the model – makes it more versatile than before. But here again the designers have earned their pay, as the rear set of doors has been very well hidden to give it a sportier appearance.
In a further effort to make the car more appealing to style-conscious buyers, there is plenty of scope for personalization thanks to a range of body colors and customisable exterior trim features like the door mirrors, side protective mouldings and decals.
As of now Renault haven't released drivetrain specifications for the new Twingo. They're keeping those details to themselves for now. They have said that the rear-engine, rear-drive layout has freed up considerable space in the interior, and also allowed them to make the car more maneuverable with a smaller turning circle – great for city driving.
The car is scheduled to make its world debut on 4 March, 2014, at the Geneva Motor Show. More information then.
Source: Renault