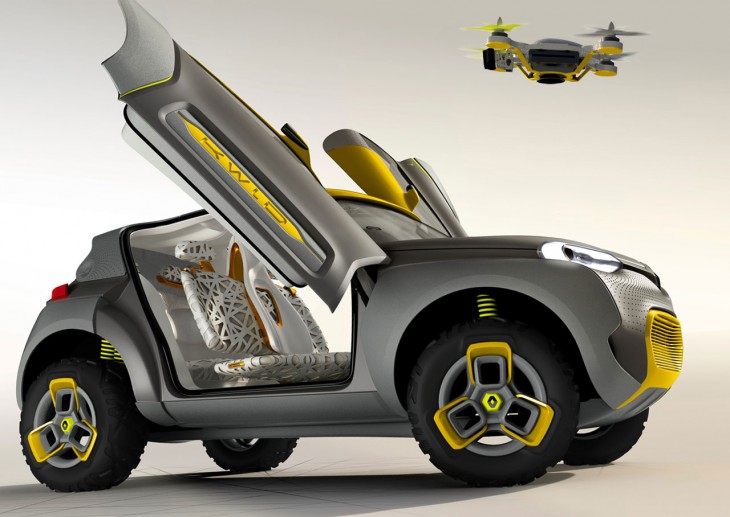 Renault's showstopper at the 2014 Auto Expo in New Delhi, India was this, the Kwid concept. The compact crossover is pretty funky looking – both inside and out. It has chunky features giving it a toy-like character, which is further highlighted by the color choices.
But the Renault Kwid concept's party piece isn't its design. It's the built-in remote-control quadrocopter which is housed in the roof that's the main talking point. Renault say this can be launched from the vehicle and used to scout out the road ahead, check traffic, or just used for entertainment and aerial photography. Despite its slightly gimmicky feel, there are some cases where this could be of use –  especially for off-road vehicles trying to find a new path through difficult terrain – or for emergency services trying to find a missing person. But in the Kwid, it's just a bit of fun.

The interior of the Renault Kwid is characterised by the unusual webbed seats, and unorthodox seating layout which places the driver in the middle of the front row. A TFT touchscreen monitor acts as a dashboard, while the front seat row can be moved backwards and forwards electronically to allow access to the rear seats. The large up-swinging doors are also electronically actuated.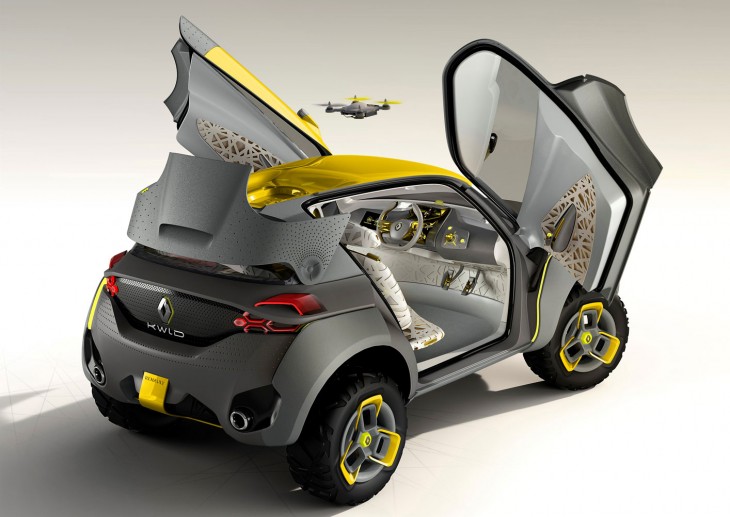 Powering the Renault Kwid concept is a 1.2 litre turbocharged engine mated to a dual-clutch transmission. Despite its off-road appearance, the Kwid is only front wheel drive.
Overall it's a slightly zany concept, probably a little too far-out to be an indicator of any future model. And of course you can forget that quadrocopter thing. But it's intriguing nonetheless.
Source: Renault