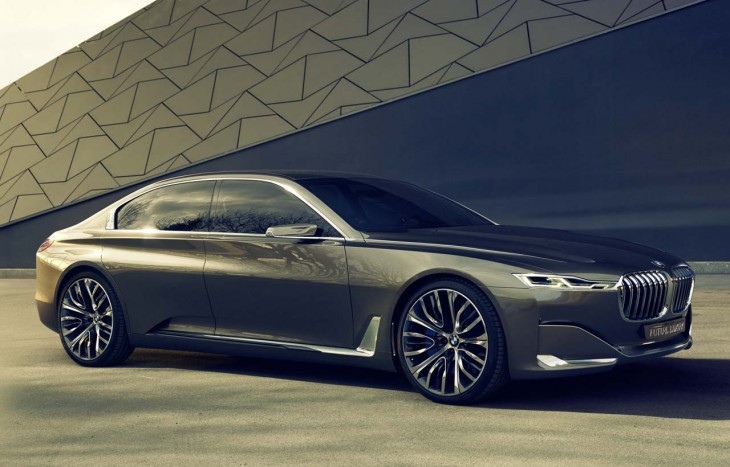 BMW chose the 2014 Beijing Auto Show to unveil the BMW Vision Future Luxury. The concept is a super luxurious, technologically advanced vehicle designed to provide a hint at what future flagship cars from the company might look like. Hint: The next 7-Series.
The BMW Vision Future Luxury concept is long, wide and surprisingly low-slung. It certainly has a presence about it. And in a good way. Not like the fugly current 7-Series. It ticks all the right boxes in terms of exterior design. Interestingly BMW say the shape of the BMW Vision Future Luxury concept was ultimately decided the old-school way, with clay models, not computers.
Up front the BMW Vision Future Luxury has of course the trademark BMW kidney grilles. However these have been enlarged significantly, while at the same time the headlights have shrunk down to little slit-like eyes.

On the inside, the BMW Vision Future Luxury concept is stuffed full of fancy technology and luxurious trimmings. Leather, wood and chrome are the materials of choice, and it also has a simpler, flowing overall feel about the cabin. The driver gets a Head-Up Display which projects driving data directly into their line of sight. The system identifies key elements, road signs, hazards etc. and highlights them to create an augmented reality.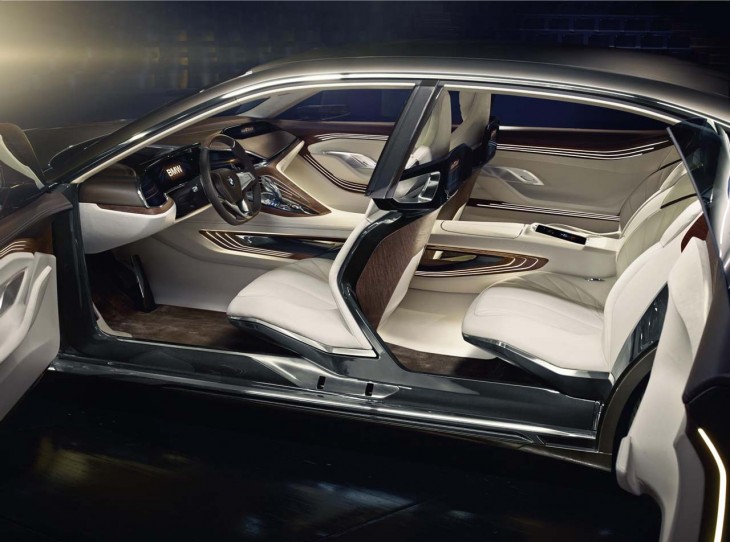 Unlike before, where the driver and passenger shared an infotainment display, the BMW Vision Future Luxury concept offers a dedicated screen for the passenger. The rear seat passengers also get their own gadgets in the form of seatback touchscreen displays. BMW say these displays can be used for communicating with the front seat occupants – what the hell happened to talking! – or more sensibly used with the BMW ConnectedDrive services. It is also possible to use online entertainment including video and music streaming as well as gaming.
BMW have not come out and specifically said the BMW Vision Future Luxury concept is a preview of the next-generation 7-Series. However they have stated that the concept provides a; " long-term outlook on the perception of modern luxury for the BMW brand."