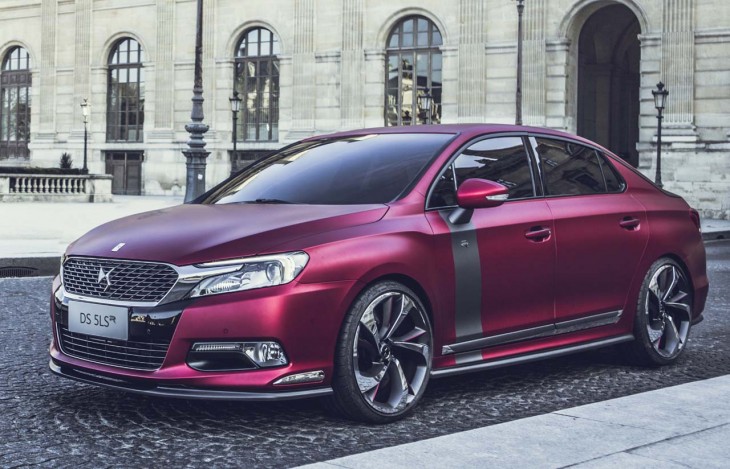 The Citroen DS 5LS R concept, is a high-performance, luxury orientated vehicle which the French manufacturer hopes will give the production car a bit of a media boost, while also showcasing what they are capable of when they give their designers and engineers a bit of freedom.
The Citroen DS 5LS R concept is the third performance-orientated vehicle released recently – following on from the DS3 Cabrio Racing and the DS4 Racing concept. It's pretty safe to say the 'R' in the DS 5LS R's name stands for Racing.
The styling of the Citroen DS 5LS R concept is closely based on that of the production DS 5LS. However a number of aerodynamic alterations give it a considerably sportier appearance. There is a new lip spoiler, side skirt extensions, and perhaps most obvious of all are the gray colored stripes which adorn the front doors just under the mirrors. The Citroen DS 5LS R concept also sits 15mm (0.6 inches) closer to the ground and has a wider front track and large 20-inch wheels. There are also numerous 'R' badges and a special paint color called anodized Carmine Red was brewed up specially for the concept.

The Citroen DS 5LS R concept is powered by a 1.6 litre turbocharged four-cylinder engine which manages to churn out an impressive 300 horsepower and 295 ft-lbs (400 Nm) of torque. This engine is a derivative of the same engine used in Citroen's DS3 World Rally Championship car. The horsepower output is identical, while the torque figure is actually a little higher.
The transmission of the Citroen DS 5LS R concept is a sequential unit controlled by paddles behind the steering wheel.
On the inside the Citroen DS 5LS R concept features swathes of leather and Alcantara suede upholstery. A three-fabric interpretation of the DS range's 'watchstrap' upholstery uses a combination of aniline full-grain leather, DS-embossed leather and Alcantara. The seats, dashboard, upper door panels and central armrest all feature Carmine Red stitching to match the exterior. Carbon fiber is used for various trim elements, including steering wheel inserts door panels and door handles.
The Citroen DS 5LS R concept made its world debut at the 2014 Beijing Motor Show.