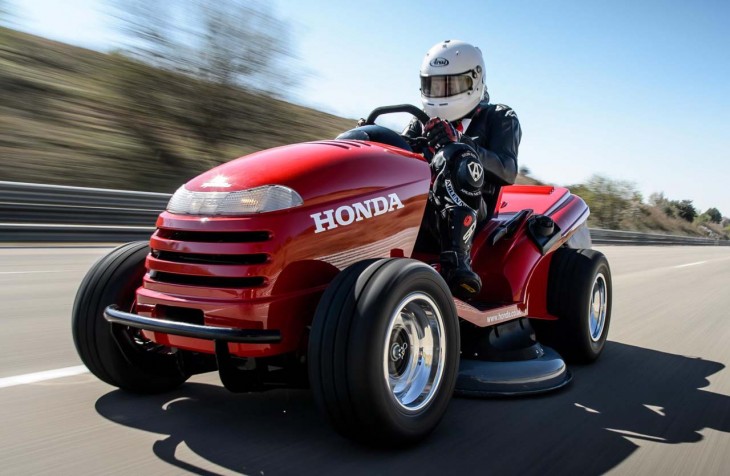 Honda have just taken the Guinness World Record for the World's Fastest Lawn Mower. The Honda Mean Mower set the record last month when they managed to average 116.57 mph, nearly 30 mph faster than the previous record. Don't feel bad for the previous record holder though. The driver, Piers Ward of BBC TopGear Magazine, was the same guy.
The Honda Mean Mower isn't just your regular off-the-shelf mower. That would be insane. It's based on a Honda HF2620 Lawn Tractor, but just about everything has been re-engineered – including the all-new chassis. The drivetrain of the World's Fastest Lawn Mower features a 1,000cc engine from a Honda VTR Firestorm mated to a custom engineered six-speed transmission. The wheels come from an ATV and are fitted with super-soft tires. Other highlights include a high-performance Scorpion exhaust, a custom-made Cobra racing seat and a steering rack from a Morris Minor.

Despite all that it still looks more or less like a lawn mower. And it can still cut grass – that was one of the stipulations of the Guinness World Record regulations for the title of World's Fastest Lawn Mower. But instead of using the Firestorm engine to power the blades it relies on two electric motors spinning a steel cutting cable at 4,000 rpm. The Honda Mean Mower can effectively cut grass at speeds of up to 15 mph – more than twice the top speed of the original HF2620 mower.
The record-breaking run was done at the IDIADA Proving Ground, in Tarragona, Spain. To meet Guinness World Records regulations the Honda Mean Mower had to record the same run, in both directions, within an hour – with the average speed taken of these two runs. Despite recording an average top speed of 116.57 mph, the Honda Mean Mower is actually geared for a top speed of 130 mph, meaning the record for World's Fastest Lawn Mower might be broken again in the very near future.