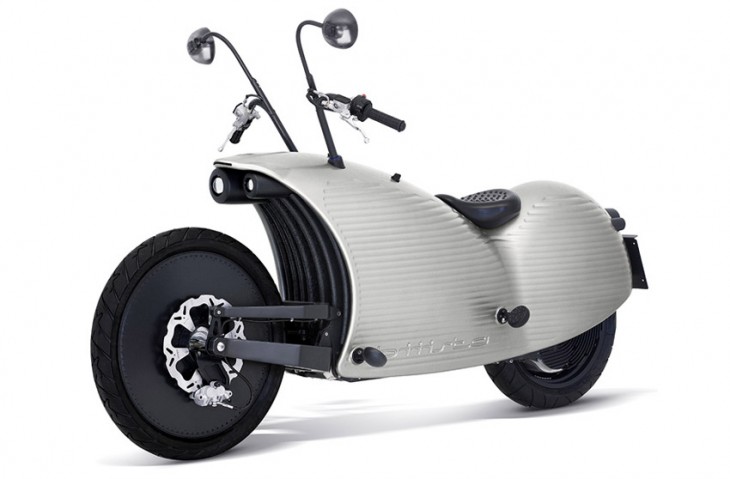 The Johammer J1 is an electric motorcycle from Austria. But perhaps the most striking thing about the Johammer J1 is not its near-silent zero-emission drivetrain. It's the styling. It looks like a kids toy, or a computer model. It doesn't look like something you could actually take out on public roads. The highly original styling of the Johammer J1 would probably put off most people, but then buyers of electric motorcycles aren't usually like most people. They're the sort of people who will appreciate something a bit different and unusual. They won't care that the J1 looks like a buck-tooth slug that's just vomited up a front wheel.
The Johammer J1 is the product of Johann Hammerschmid – you can see where the name came from now – and his small team of designers, engineers and fabricators. Underneath that one piece bodywork is some really rather clever stuff.

The front wheel, for example, doesn't rely on conventional telescopic forks for suspension and steering. Instead it uses hub-center steering and a double wishbone style front suspension mechanism. The battery packs are located as far down in the aluminium chassis as possible for a lower center of gravity which improves handling. And the electric motor is integrated into the rear wheel and is said to be maintenance free. It also features regenerative braking to improve efficiency and increase range.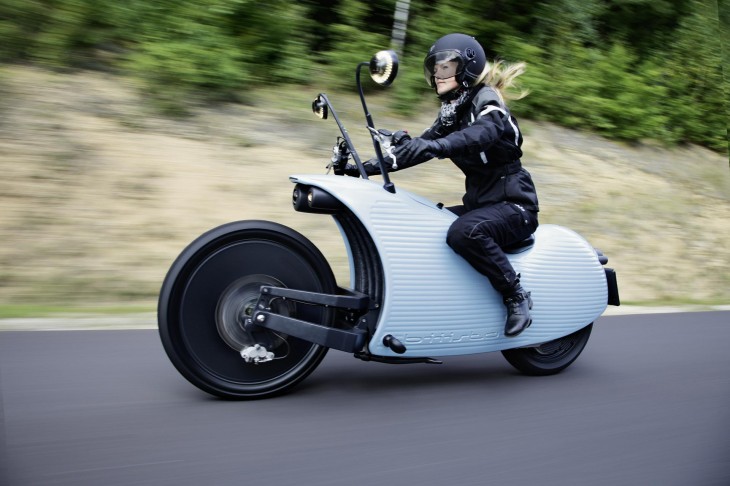 But the technology doesn't stop with the clever suspension and electric drivetrain. The Johammer J1 also has multi function side mirrors which feature a high-resolution display showing speed, range and other relevant driving information.
The Johammer J1 is available in two versions, the J1.150 and the J1.200. Visually and performance-wise the bikes are identical. However the J1.200 has a longer range due to a larger battery pack. The Johammer J1.150 is priced at  $31,000 (23,000 EUR / £19,000) while the J1.200 goes for $34,500 (25,000 EUR / £20,500).
Johammer J1 electric motorcycle specifications:
Electric Motor:   Permanent-magnet synchronous motor 14 horsepower (11kW)
Performance: top speed 75 mph (120 km/h)
Battery pack: Li-ion 8.3 kWh J1.150 / 12.7kWh J1.200
Charge time: 2.5 hours J1.150 (60 mins fast charge) / 3.5 hours J1.200 (80 mins fast charge)
Frame: Aluminium