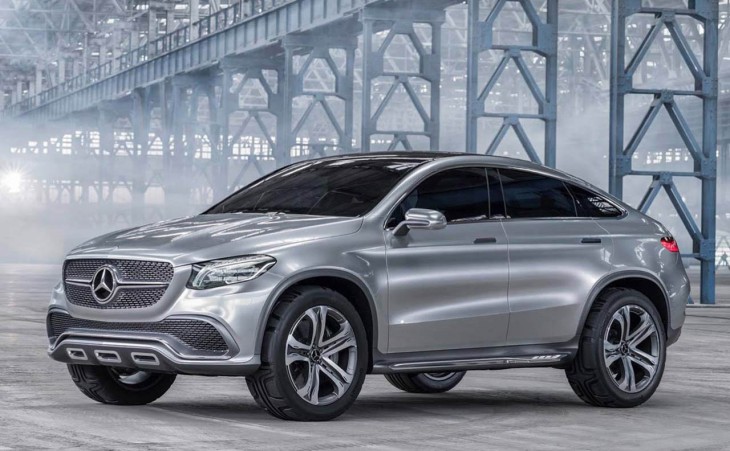 The Mercedes-Benz Concept Coupe SUV was one of the most highly anticipated concept vehicles to go on display at the 2014 Beijing Auto Show. The sporty-looking SUV concept is a fairly accurate preview of a production model due out in the not too distant future. Mercedes haven't explicitly confirmed the new model yet, but any time they develop a concept which has a production-ready feel about it, it appears in the showrooms a couple of years later.
The Mercedes-Benz Concept Coupe SUV's main, and possibly sole, competitor is the BMW X6. Both models are basically SUVs but with a more stylish and less practical roofline. Like the X6, the Mercedes-Benz Concept Coupe SUV is a big ol' vehicle. It's nearly 16 feet (5 metres) long and 6 feet (2.2 metres) wide. The 22-inch wheels are wrapped in tires which look far more suited to road duty than any serious off-road excursions.

In terms of appearance, there's nothing to really dislike. Mercedes have played it fairly safe with the design. The front end, even without the Mercedes-Benz badge, is easily recognisable, while the back end is clean and uncluttered. The pillar-less look of the side windows give it a sleek appearance when viewed in profile.  There's certainly nothing that would put off the typical conservative-design-loving Mercedes customer.
Powering the Mercedes-Benz Concept Coupe SUV is a 3.0 litre V6 engine fitted with two turbochargers. This unit develops 333 horsepower @ 5,500 rpm, and 354 lb-ft (480 Nm) of torque from 1,400 – 4,000 rpm. The transmission is a 9G-TRONIC PLUS nine-speed automatic which sends power to all four wheels via a 4MATIC permanent all-wheel drive system. The transmission features four different modes for coping with a variety of conditions; Comfort, Slippery, Sport, Sport+ and Individual.
The Mercedes-Benz Concept Coupe SUV will make its world debut at the 2014 Beijing Auto Show which runs from April 21 to 29.