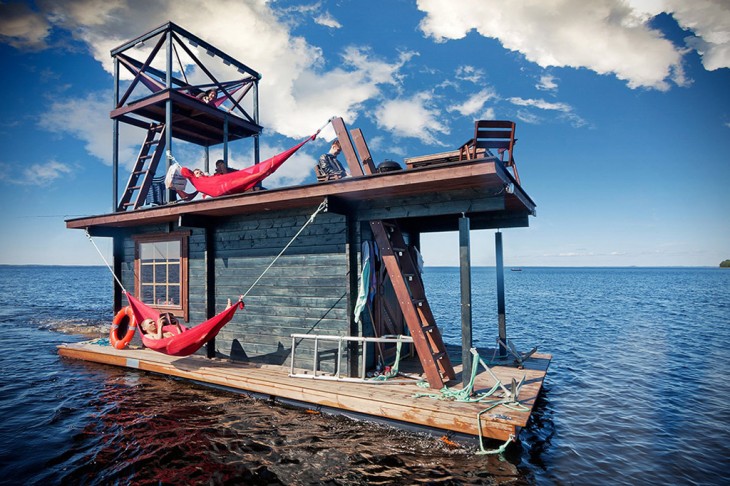 The Scandinavians love their saunas. It's part of their culture. But unless you happen to have oodles of money and a large luxury yacht, its hard to combine saunas and boating. Unless you go the budget route like these enterprising Fins did and knock up your own floating sauna raft, or Saunalutta as it's known in Finnish.
Created by a group of friends in Joensuu, Finland, the Saunalutta sauna raft basically consists of a shed sandwiched between two decks. The shed contains a small changing area/storage room and a decent sized sauna. The lower deck of the sauna raft features a rear swim platform and also provides a mounting point for the small outboard motor used for propulsion.

The deck above the sauna hosts a barbacue and eating area, as well as providing plenty of space for partying and entertaining. At the very top is a third smaller deck which provides a great place to take in the views over a cold beer.
Despite its cobbled-together appearance, the Saunalutta sauna raft was actually designed on paper and with the help of CAD 3d modeling before the first piece of wood was cut. The end result is something which looks way more fun and relaxing than many slick, gloss white powerboats costing ten times the price.
For those who want to give the Saunalutta sauna raft a try for themselves you're in luck. The vessel is available to rent through the Saunalutta facebook page.