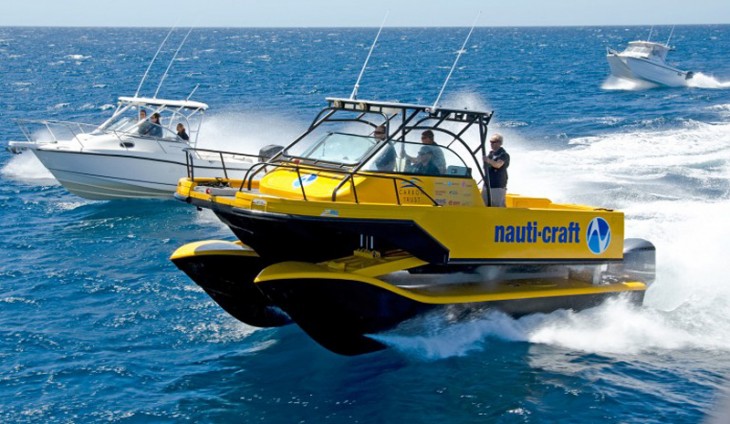 The Nauti-Craft 2Play catamaran is one of the few boats to feature a full suspension system. And that's kinda strange when you think about it. Because the open sea is usually far rougher than any road surface – with the possible exception of roads in Michigan. It's not uncommon for powerboats to have seats with built-in air suspension, and certainly offshore racing boats have them. But to have the entire deck riding atop a suspension system is unusual. One of the only other watercraft to employ a similar system is the unusual and highly advanced SeaPhantom built by Maritime Flight Dynamics Inc.
However unlike the SeaPhantom, the Nauti-craft 2Play catamaran is a much more versatile vessel with a more practical and familiar deck layout. If it wasn't for the advanced suspension system it would be fairly unremarkable.
The 26 ft (8 m) Nauti-Craft 2Play catamaran is just the latest in a series of prototypes the Australian company  have developed to test the system in real-world conditions. Prior to building prototype boats, the company used computer simulations to evaluate the design.

The system works by separating the deck and superstructure from the twin hulls beneath. The interlinked hydraulic suspension system connecting the deck to the vessel's hulls absorbs the impact of the water. The suspension system, developed and patented by Nauti-Craft, is the only maritime suspension system which has both passive and reactive abilities. That means the system can function without power, it just relies on some very clever hydraulics. At the same time it can also be electronically adjusted to compensate for different loads and offers variable damping.

The benefits of the suspension system are not just limited to comfort for the people on board. It also improves the speed of the vessel and increases fuel efficiency. Stability and safety are also improved, and the effects of sea-sickness are reduced. If the optional active roll-control system is added then cornering speeds are also increased.
The Nauti-Craft 2Play catamaran will make its world debut at Seawork International 2014 in Southampton, England later this year. Prices or availability have not yet been announced.