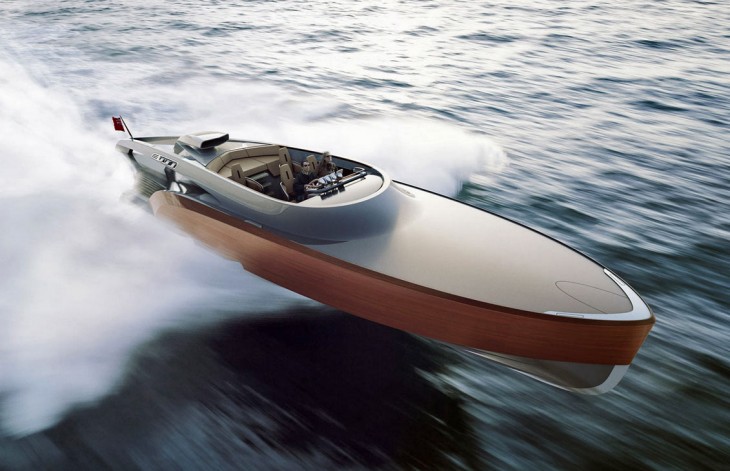 The British yacht design studio, Claydon Reeves, has just put the finishing touches to their latest design. Called the Aeroboat, the styling of the luxurious powerboat was inspired by the Royal Air Force's most famous aircraft of all time, the Supermarine Spitfire.
Powering the Claydon Reeves Aeroboat is a Rolls-Royce Merlin V12 engine, one of the most iconic, and storied engines of all time. It was developed in the 1930s, and saw action in the Second World War as the powerplant of some of the best-known war birds of the era – including the Supermarine Spitfire and the Hawker Hurricane. It's a huge hunk of engine, 27 litres in capacity and in supercharged form capable of producing over 2,000 horsepower.

However, for the 12 Aeroboats which are scheduled to be built, to keep things a bit more reliable and sedate, the Merlin engine has been detuned to 1,100 horsepower, giving a potential speed range of 75 – 95 kts. Each of the twelve reconditioned Rolls-Royce Merlin V12 engines fitted in the Aeroboats will come with documented provenance.
Buyers of the Aeroboat will be able to specify the boat to suit their particular tastes. Claydon Reeves say the high-tech vessel uses both carbon fiber and Kevlar in its construction, while the interior features lightweight wood veneers and a contemporary luxury cabin. The cockpit in particular is a work of art, and features a selection of aircraft-inspired gauges and dials mounted on bespoke stainless steel frames.
The Claydon Reeves Aeroboat will make its world debut at the Salute to Style show at the Hurlingham Club in London on 16-19 July. The event is a showcase of historic and prestigious machinery, celebrating automobiles, boats and aircraft.