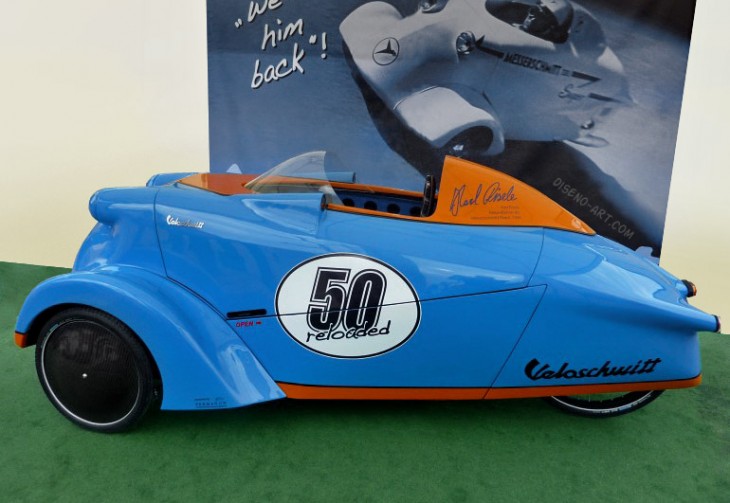 It's not hard to see where the inspiration for the Veloschmitt KR E-250 came from. But for those still wondering, it was inspired by the Messerschmitt KR200 bubble car from the 1950s. The Veloschmitt KR E-250 brings the Messerschmitt formula kicking and screaming into the 21st century, thanks to two German designers –  Achim Adlfinger and Fred Zimmermann.
By getting rid of the original car's tiny internal combustion engine and replacing it with an electric motor and an eight-speed Shimano Nexus cycle drivetrain, the pair have turned the Veloschmitt into a two-person recumbent e-bike with bags of character. The original car's metal frame and body is replaced instead with a lightweight carbon fiber frame and a fiberglass body. The ready to roll curb weight of the Veloschmitt KR E-250 – with the electric drivetrain installed – is an impressive 60 kgs (130 lbs).

The electric drive of the Veloschmitt KR E-250 consists of a 250 Watt motor which is powered by a 36 volt 10Ah lithium-iron-phosphate battery pack. Top speed of the vehicle is a slow but usable 18 mph (30 km/h). Enough for low-speed town driving, and certainly enough for a gentle cruise around the park. However that's just the start. Veloschmitt say a 1,500 Watt motor could conceivably be integrated into the vehicle in the future raising the top speed considerably.
The Veloschmitt KR E-250 also features a powerful Busch and Muller Lumotec headlight system, LED tail lights, air suspension, and Hydraulic Shimano disc brakes. The vehicle is capable of carrying up to 200 kgs (440 lbs) of passengers and luggage.
Prices for the Veloschmitt KR E-250 start at $7,200 (5,200 EUR) for the single seat model. While the two-seater version starts at a hefty $8,600 (6,250 EUR). Start ticking some options boxes, which include larger battery packs, different roof options, custom covers and trim enhancements and the most expensive model could cost a whopping $13,000 (9,400 EUR).