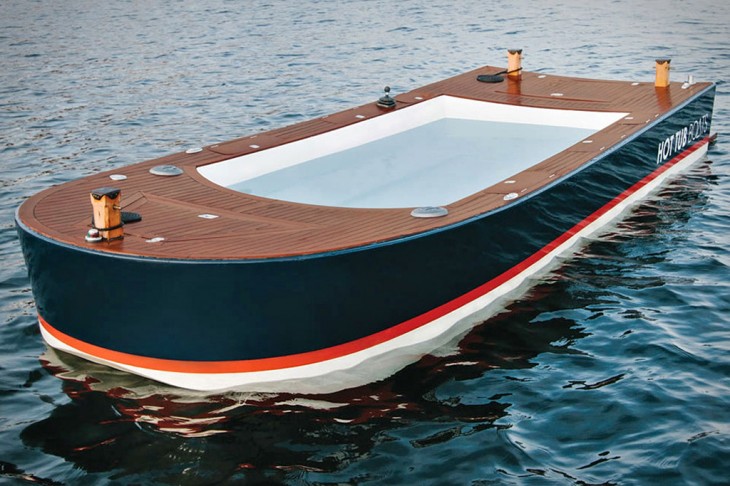 Hot Tub Boats, based in Seattle, Washington are in the business of building boats that are purposely designed to keep their occupants soaking wet. For any other boat company this would be a disastrous proposition, but when you're offering a boat / hot tub combo it somehow works.
The vessel is not just a simple dingy filled with some warm water though. It's a custom-built design with luxury appointments and plenty of hidden gadgets. The 15-foot (2.4 metre) Hot Tub Boat features a built-in diesel boiler with thermostat control which can get the water up to a very toasty 104F (40C). Propelling the craft is a quiet 24-volt motor offering a top speed of 4 knots. The boat is controlled via a small joystick located on the deck on the right hand side. The batteries provide up to 10 hours of cruising time before requiring a recharge.

The decking consists of beautifully finished African teak wood and has two built-in flush mounted pop-up 50-watt speakers. There are also no less than four built-in ice chests, as well as additional storage compartments integrated into both the fore and aft decks. A waterproof stereo with MP3 and iPod connectivity provides the entertainment. A full Bimini cover is also available as an option.
The Hot Tub Boat is rated for up to six passengers, and the company have worked with the US Coast Guard to make sure that the unusual vessel meets all safety regulations in both the US and Europe. Despite being able to carry 2,100 lbs (952 kgs) of water, the boat only drafts 20″ (50 cm).
Of course, with an asking price of $42,000, and a fairly limited market, the Hot Tub Boat isn't for everyone. But if you're a hot tub aficionado, and also want to cruise up and down the waterways, what other choice do you have? A cheaper alternative is to hire one of the boats from the Seattle-based company,  a snip at $159 per hour.