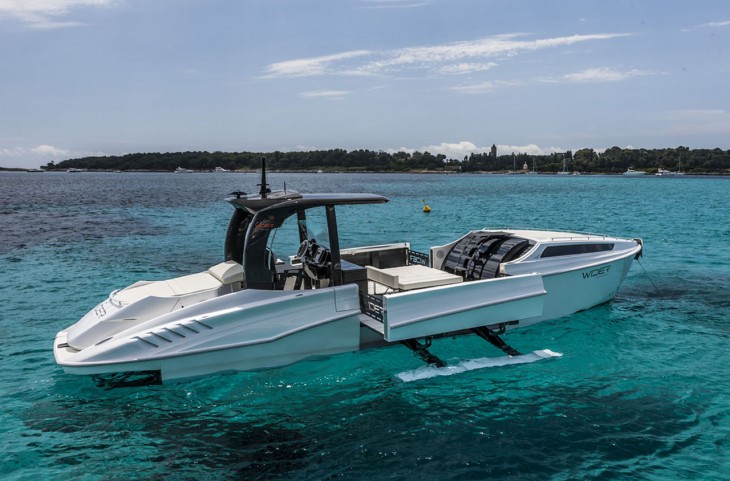 Wider are an Italian company who are in the business of building luxury yachts. They offer several models, up to and including 165-foot superyachts. However their 42-foot model is one of their more intriguing models.
The Wider 42′ was developed from a concept by Tilli Antonelli, and the styling was honed by Fulvio De Simoni. It incorporates a transformable mid-section which can significantly widen the vessel at the touch of a button. In just 12 seconds the width of the main deck nearly doubles, while at the same time outrigger pontoons extend into the water to provide additional stability.
At the rear of the Wider 42, a multi-configuration sun deck can provide space for a small tender or a jetski. Alternatively it can be used to stow diving equipment or as a place to mount a fishing chair for catching big game fish.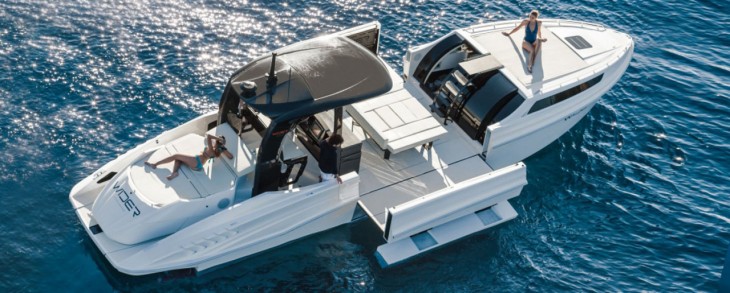 Carbon fiber is used extensively throughout the vessel for certain elements, ranging from the poles for the Bimini top and ladder leading up to the bow, to the central dining table cover and even the toilet seat.
Outside, the Wider 42 features a small grill for cooking, and an ice-box for chilled drinks. While on the inside, the small galley kitchen offers a sink, microwave and refrigerator.
The interior of the boat also features a small bathroom complete with shower. Mounted on the door of the bathroom, facing outward to the rest of the interior is a flatscreen TV which can be viewed from the sofa/bed area in the bow of the vessel.
Powering the Wider 42 are a pair of engines mounted in a staggered configuration underneath the main deck. The twin Cummins diesel engines each produce 480 horsepower and allow for a top speed of roughly 50 knots.
Other highlights of the Wider 42 yacht include a hidden, electrically operated anchor system integrated into the bow of the boat, a Garmin Radar 18 HD 36 navigation system, retractable fender cleats, multifunction steering wheel, and a full-color digital navigation display.