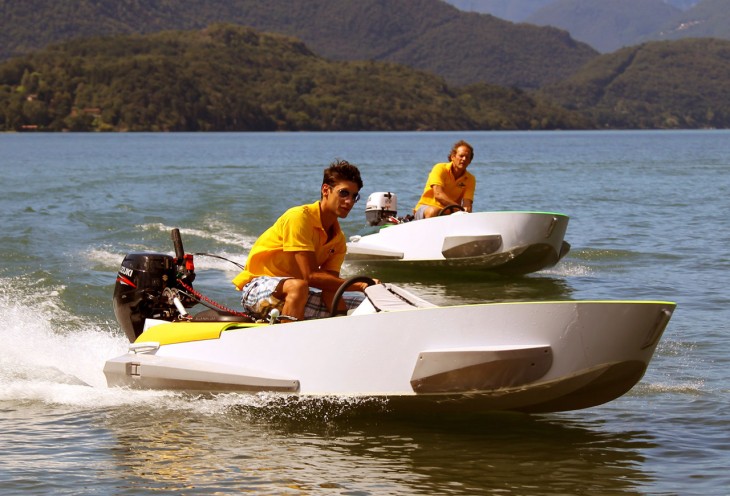 On the shores of lake Worthersee in Austria  (the same place the annual Wothersee festival for VW/Audi fans takes place) is a small company called Marinekart. They build compact little boats which are versatile, adaptable, supposedly unsinkable, and lots of fun.
The MarineKart is basically a go-kart for the water. It can carry up to four people, weighs just 127 lbs (58 kgs) without a motor, and is powered by an electric outboard motor, of which there are two to choose from, a 2.7 hp unit and a 5.4 hp model. It can also be powered by conventional four-stroke outboard motors.
While the power output of the electric motors might not sound like much – mainly because it isn't very much – the featherweight construction and the compact size of the boat means it's quicker than you might think. The base model – powered by a Torqeedo 2R 24V motor has a top speed of 9 knots, while the more powerful Torqeedo 4R 48V model has a top speed of 15 knots. Apparently the boat can handle up to a 10 horsepower motor, allowing for a top speed of around 30 mph.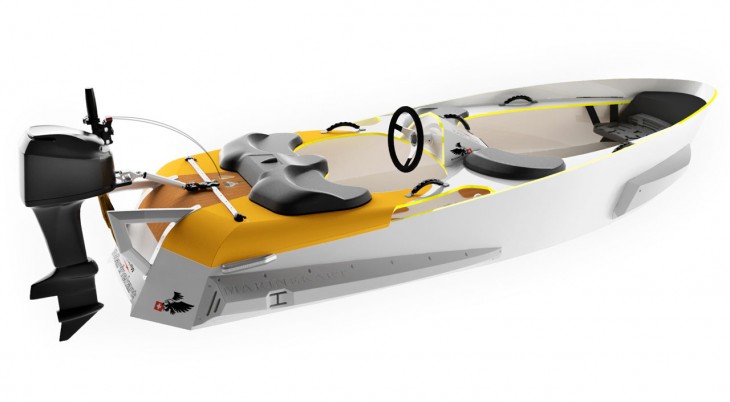 The compact little MarineKart is just 11 ft (3.3 metres) long and 4.4 ft (1.36 metres) wide. Features include removable bow seating, a waterproof removable storage bag, unsinkable seat cushions which can be used as flotation devices and a composite hull which is also unsinkable due to its sandwich construction.
The MarineKart is aimed at people who want a boat, but don't neccesarily have the space to store one, or those who want a fast, fun boat but don't have the money to buy a larger, heavier more powerful vessel. It is also suited to a role as a yacht tender due to its low weight and compact size.
MarineKart has a number of dealers worldwide, including at least 16 in Europe, 4 in the US (mainly East coast), 2 in the Middle East and 4 in Australia. Prices for the MarineKart differ depending on options, year of construction and dealer location, but expect to pay roughly $5,000 – $5,500.