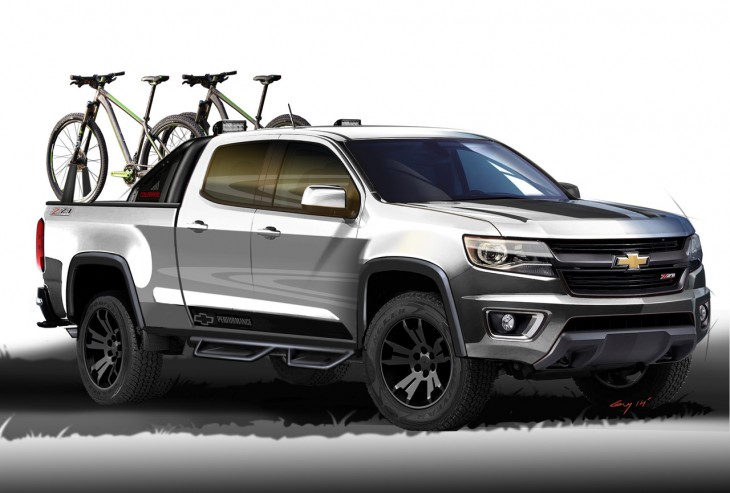 The Chevrolet Colorado Sport Concept is a vehicle which has been designed with adventure and outdoor activities in mind. Chevrolet say the Colorado Sport Concept is designed to showcase the lifestyle-orientated versatility of the mid-size pickup. But really it's just an excuse to show off all the official accessories available for the vehicle.
"It's not just mountain bikes, but just about any passion you can name, from kayaking, fishing, dirt bikes and more," said Tony Johnson, Colorado marketing manager. "It's a truck for those who need the versatility of a pickup to support their work and lifestyle interests, but don't need a full-size truck to do it."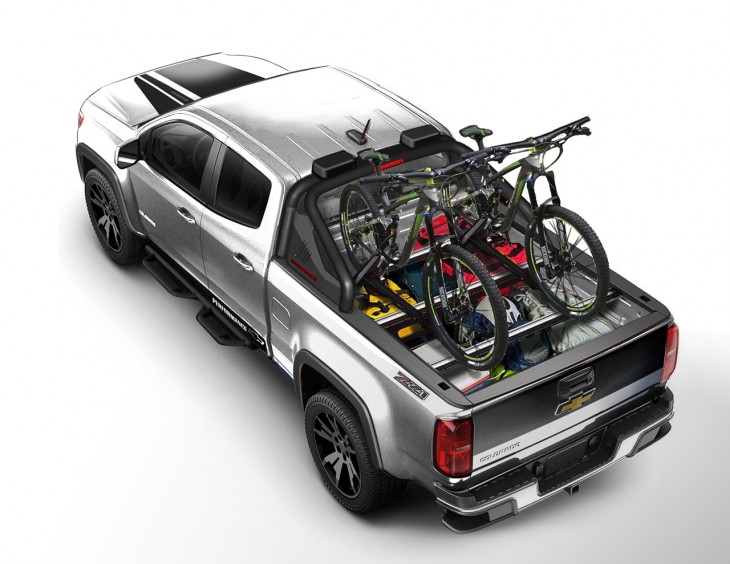 The Colorado Sport Concept features just about every accessory available for the model, including the GearOn accessory system which allows owners to stow larger items such as bikes and kayaks above the bed, leaving room for smaller gear, such as coolers and tents, inside the bed. Additional accessories on the concept – which are all available through Chevrolet dealers – include:
– Assist steps
– Cargo rings
– Splash guards
– Tiered storage
– Bike rack
– Cargo divider
– Wheel lip moldings.
The Chevrolet Colorado Sport also wears unique wheels which are being evaluated for production in the near future.
The 2015 Colorado is available in extended or crew-cab models, with a choice of a 2.5L four-cylinder or 3.6L V-6 engine. The Colorado's V6 offers an EPA-estimated 27 mpg on the highway (2.5L 2WD models), and the most powerful, at 305 horsepower (3.6L). can tow up to 7,000 pounds, when properly equipped.
Prices for the 2015 Colorado start at $20,995 for a four-door extended cab model with a 200-horsepower four-cylinder engine.