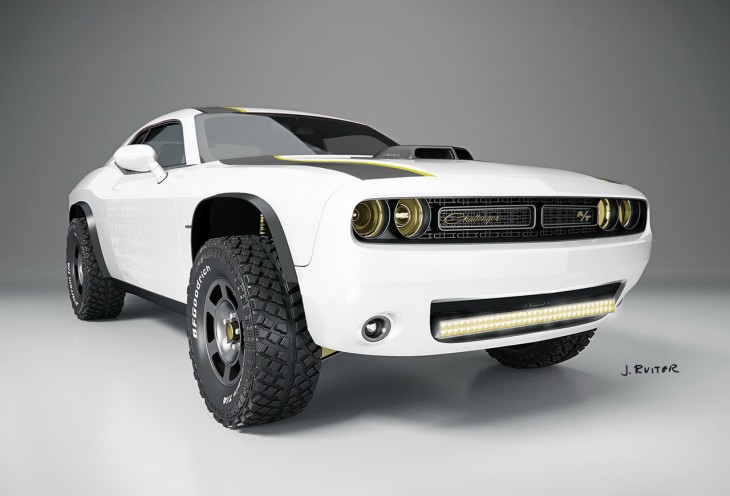 First of all, for anyone – and that more or less means everyone – reading this hoping to hear about a planned production date, pricing and availability of the Dodge Challenger A/T Untamed concept, this is a digital rendering of a currently non-existent vehicle.
But there is a glimmer of hope, Joey Ruiter, the man who designed the concept is a fairly prolific automotive fabricator.  Having scratch-built a wide assortment of vehicles, ranging from electric-powered off-road buggys and motorcycles, to boats and personal water craft. So if anyone can make it a reality, he can. In fact he's begun work on a kit which could transform stock Challengers into formidable all-terrain beasts.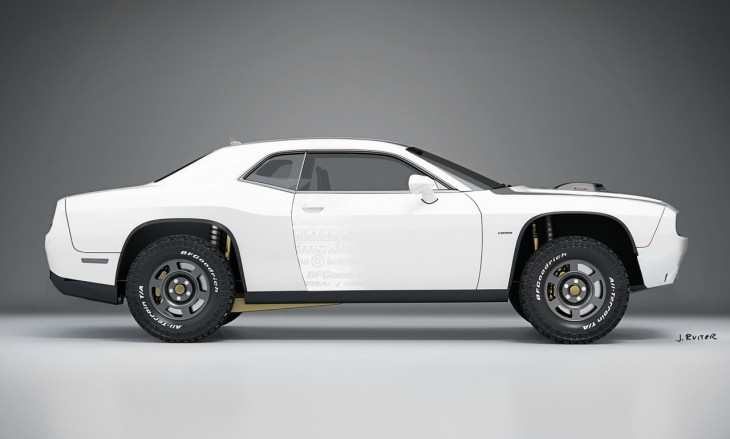 The Dodge Challenger A/T Untamed concept is based on a 2015 Dodge Challenger. Extensive modifications have been devised which would turn the car into a highly capable off-roader. Chassis upgrades include:
• Long travel front suspension arms
• Rear trailing arm with links
• Body armor with rock sliders
• Front skid plate
• Repositioned exhaust
In order to cope with the significantly larger wheel and tire sizes, as well as the inhospitable terrain on which the Challenger A/T Untamed might well find itself, the bodywork has also been redesigned and given some additional features. Changes include wider arches with new inner wheel arches, an integrated lower light bar, spare tire mount, off-road tool storage compartment, additional safety equipment, and a graphics package with A/T logos.
While the recently revealed 707 horsepower Challenger Hellcat combined with the A/T Untamed kit conjures up some delicious possibilities. Ruiter actually thinks a tuned version of the base Challenger's V6 would be a better option. Although as the transformation actually has very little to do with the drivetrain – except for exhaust repositioning – any current engine/drivetrain combo currently offered by Dodge should be possible.
Source: J.Ruiter