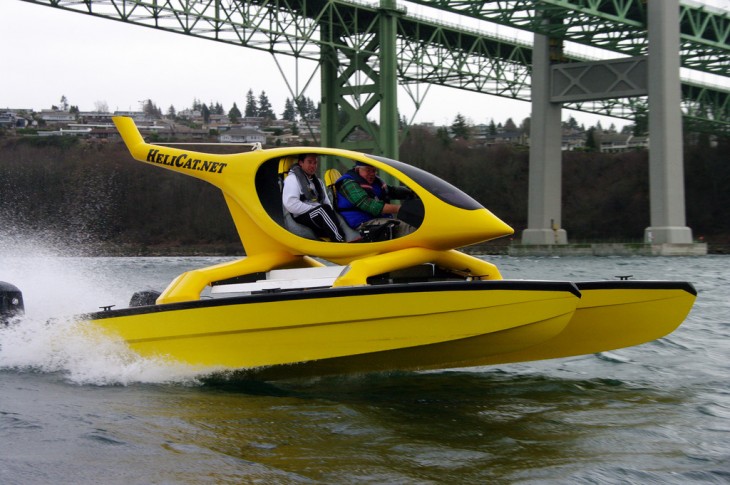 If you like the idea of owning a helicopter, but are afraid of heights and happen to live near a lake or the sea, then this really should be on your shopping list. The Helicat 22 is a catamaran which has been styled to look like a helicopter. Don't ask why, there doesn't seem to be any particular reason. The Helicat 22 has been desiged with speed and stability in mind. It's particularly good on rough waters with the widely spaced twin hulls providing a stable platform with minimal drag when zooming along at speed.
Aside from its unique appearance, the Helicat 22 also offers a good degree of practicality. Obvioulsy the cabin is fairly compact, limiting the number of people who can be carried at any one time, but it can cope with waves which would have boats of comparable size scooting for the nearest safe harbor. It has an impressive top speed of 43 mph when fitted with the optional 90 horsepower motors. It also has a range of over 100 miles with the standard twin 45 litre (12 gallon) fuel tanks.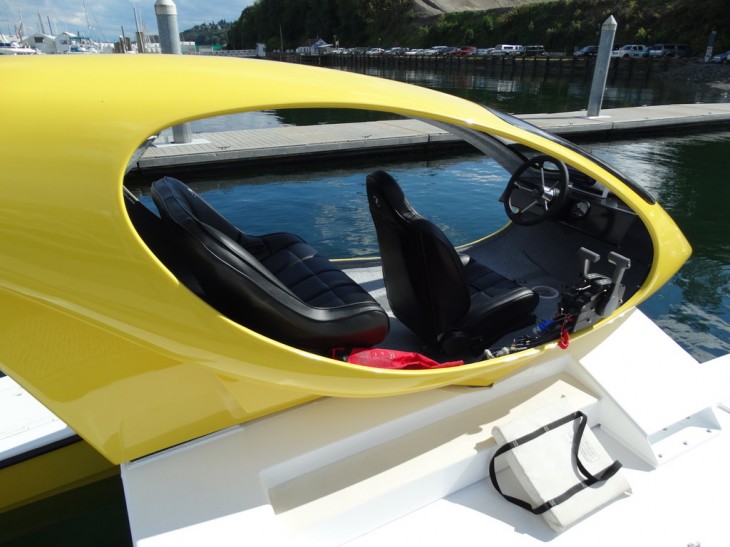 The interior of the Helicat offers a single seat up front for the driver, while in the rear a two-person bench is provided. For a few extra bucks the fixed seats can be replaced with swiveling units which are better suited to fishing. There are six storage compartments dotted around the vessel, including a larger storage area behind the rear seats capable of holding fishing rods in the tail section. While the cockpit does offer some degree of protection from the elements, the addition of optional clear vinyl roll up sides makes it much better at keeping out both wind and rain.
The Helicat 22 is built in the US, however delivery is available worldwide. The base price for the Helicat is $74,000.