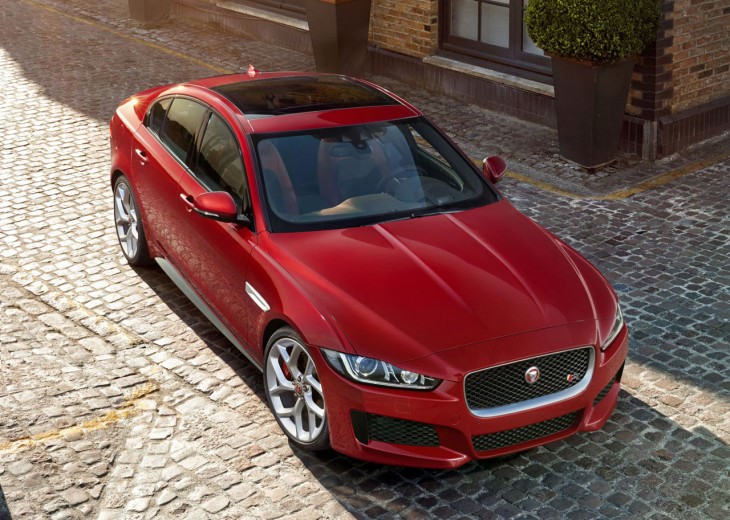 Jaguar has made no secret of the XE. In fact they've been shouting about if for many months now. But at a Jaguar-hosted, star-studded event in London the car was finally unveiled.
At first glance it looks like Jaguar made a mistake and accidentally pulled the covers off an updated XF. But if you take out a tape measure and a magnifying glass then it becomes clearer this is in fact a new model. The Jaguar XE is a sports orientated saloon designed to do battle with the likes of the BMW 3-Series and Audi A4. It's a rear-driver, which is a huge plus point, and from launch a high performance XE S model will be available powered by a supercharged 3.0 litre V6 developing 340 horsepower.
Like the slightly larger XF, the new XE is a handsome car. Not exciting, dramatic or eye-catching, just quietly confident in its own solid proportions. The XE S gets a slightly more sporty appearance, including larger front intakes, chrome side vents, a small rear spoiler and optional 20-inch wheels.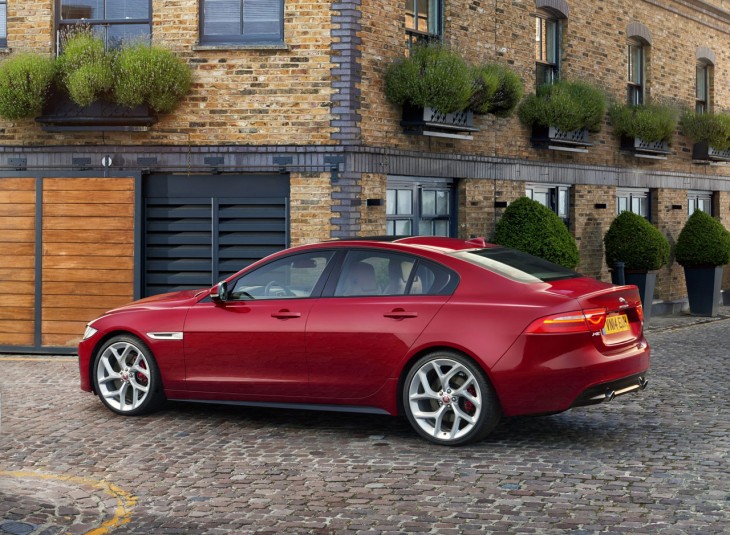 While the XE S is the headline act, clearly Jaguar will shift far more of the lower powered models. Other drivetrain choices in the range are to include two versions of a turbocharged 2.0 litre gasoline engine and a fuel-efficient 2.0 litre diesel engine. The transmission choices include a six-speed manual or an 8-speed automatic.
The Jaguar XE is based on an aluminium monocoque chassis which is both light and strong. In order to improve the environmentally friendly credentials of the car, the aluminium used – which goes by the snappy name of RC 5754 – is an alloy made primarily from recycled materials. But just because it's quite possibly made from your beer cans from last year's christmas party doesn't mean the XE's chassis isn't high-tech. It's been engineered to be as slight as possible while also maintaining an extremely high level of rigidity. In fact Jaguar even make the bold claim that the new XE has the most sophisticated chassis of any vehicle in its class, which considering what it's up against is a statement indeed.
The XE uses an electric power steering system, the first Jaguar to do so ever. Mike Cross, Chief Engineer of Vehicle Integrity at Jaguar said the decision to go with an EPAS system was made due to the high degree of adjustability they offer over conventional power steering systems. Up front the new XE features a double wishbone suspension system, while at the rear an integral link system was installed. Aluminium has been used extensively for both front and rear suspension systems in order to further reduce weight.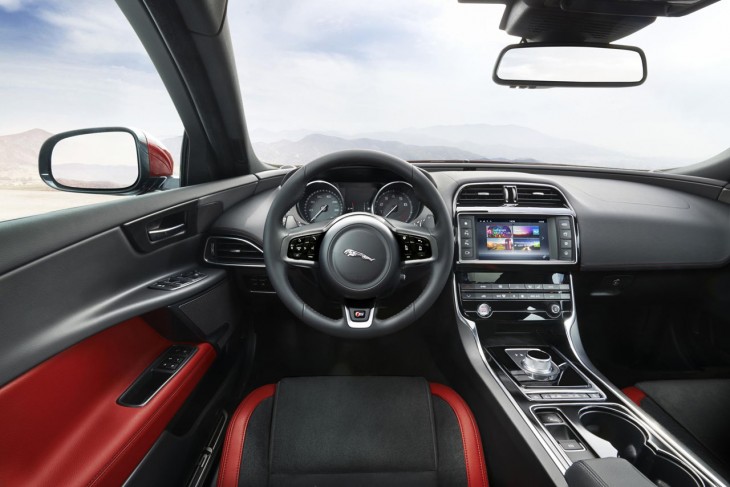 On the inside the Jaguar XE comes extremely well equipped. The all-new InControl infotainment system is based around an 8-inch touchscreen display. Voice control of many of the systems allows for hands-free operation of many of the cars secondary functions. Like all new cars the XE has a high degree of connectivity, offering Bluetooth, audio streaming and USB connections. The car also acts as a Wi-Fi hotspot, allowing multiple devices to connect to the internet, the vehicles built-in antenna provides the best possible signal.
JAGUAR XE S SPECIFICATION
ENGINE & TRANSMISSION
Engine capacity (cc)
2,995
Cylinders
6
Valves per cylinder
4
Bore/ stroke (mm)
84.5/ 89.0
Cylinder block
Aluminium alloy
Cylinder heads
Aluminium alloy
Fuel injection equipment
150bar spray-guided direct injection
Boosting system
Twin-Vortex supercharger
Transmission
ZF 8HP45 8-speed automatic
PERFORMANCE
0-60mph (sec)
4.9
0-100km/h (sec)
5.1
Top speed mph (km/h)
155 (250)
Power PS (kW)
340 (250) @ 6,500rpm
Torque Nm (lb ft)
450 (332) @ 4,500rpm
Fuel consumption mpg (litres/100km)
EU combined cycle
33.9 (8.3)
CO2 emissions (g/km)
EU combined cycle
194
DIMENSIONS
Length (mm)
4,672
Width excl. mirrors (mm)
1,850
Height (mm)
1,416
Wheelbase (mm)
2,835
Kerbweight
From 1,474 kg (3,249 lbs)
The other drivetrains which have been announced for the XE include a 2.0-litre four-cylinder diesel producing 163 horsepower and providing exceptional fuel economy and low emissions, as well as two different power output versions of a 2.0 litre turbocharged and direct injected 4-cylinder gasoline engine.
Prices for the Jaguar XE start at £27,000 in the UK. Prices for the US and elsewhere should be announced soon. The car will go on sale in spring 2015.