The Peugeot QUARTZ is a futuristic SUV concept with dramatic styling and a 500 horsepower hybrid drivetrain. The concept is based on the same platform underpinning the new 308.
Peugeot say the QUARTZ represents their vision for the crossover segment, and showcases innovative materials as well as the company's latest HYbrid system. Which in this case consists of a 270 horsepower 1.6 litre turbocharged engine assisted by a 113 horsepower electric motor which both drive the front wheels. At the rear a second 113 horsepower electric motor drives the rear wheels. The transmission is a six-speed automatic.
The QUARTZ has three driving modes to suit different conditions and requirements. In ZEV mode the vehicle uses electric power alone, allowing it to cover up to 31 miles before needing a recharge. For higher speeds or longer journeys, Road mode engages both the engine and front electric motor. And for more rigorous use the Race mode can be activated which also brings online the rear motor for maximum performance.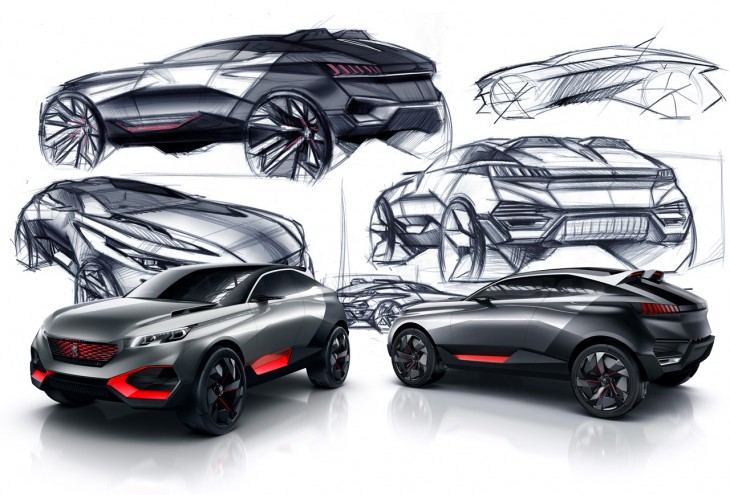 The styling of the Peugeot QUARTZ marks a departure from the current styling language of the company. The rear especially looks very unlike any Peugeot before. In fact it looks more like a prop from a low-budget sci-fi flick. The front end is a little more appealing, but it doesn't have much character, and take away the Peugeot badge and it could be from almost any manufacturer under the sun.
The interior of the concept is almost as angular as the exterior. The pointy seats look great, if a little uncomfortable, while the rest of the cabin has a sleek minimalist feel about it. Interestingly the center console makes use of the naturally occurring rock Basalt – which is formed when magma cools quickly in the air. Other innovative materials used in the cabin include a woven textile which is made from polyester fibre created from recycled plastic water bottles.
While Peugeot say the QUARTZ concept showcases their vision of the future crossover SUV, they don't mention if it represents a preview of a particular production model, or if it's just one idea they're exploring.