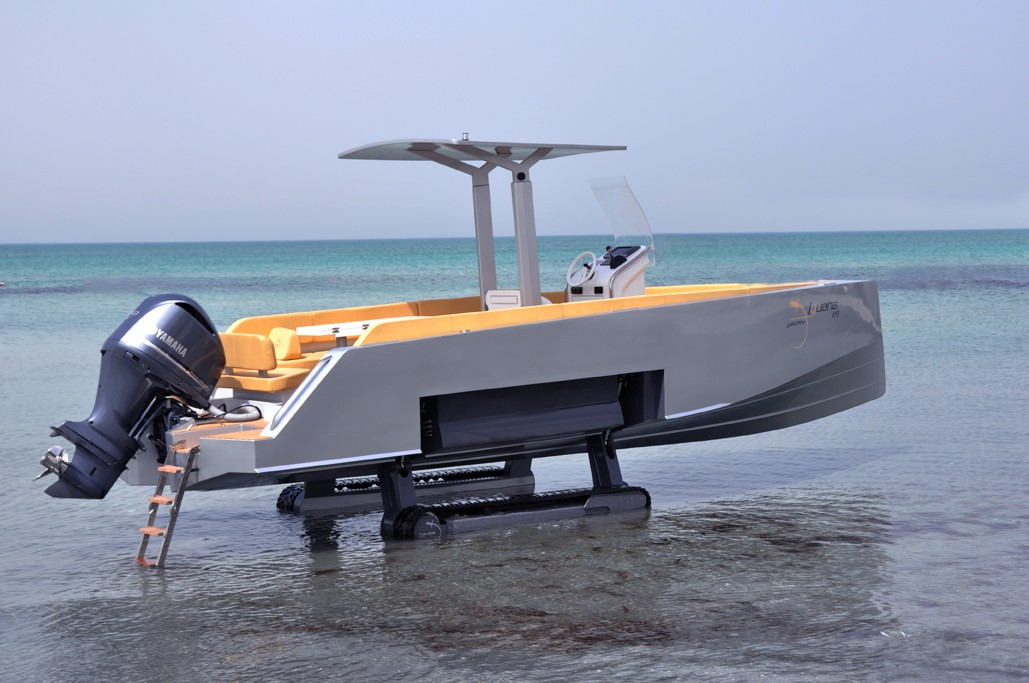 If you find yourself torn between buying a tank or buying a boat, then Iguana Yachts have got you covered. Their Iguana 29 power boat is a remarkable fusion of the two. In the water it looks like almost any other modern, minimalist watercraft, but when it comes time to get out of the wet stuff, well that's when the Iguana 29 comes into its own.
At the flick of a switch, two rubber tracks descend from the hull and lock in place to allow the boat to haul itself up the beach. On land it doesn't have the same sort of performance as it does in the water. 5 mph is the top speed. Roughly a brisk walking pace. But that's still a hell of a lot faster than most boats on land! The fact it uses tracks instead of wheels also means the Iguana 29 is less likely to sink into soft sand, and it is also stable when out of the water due to its large footprint.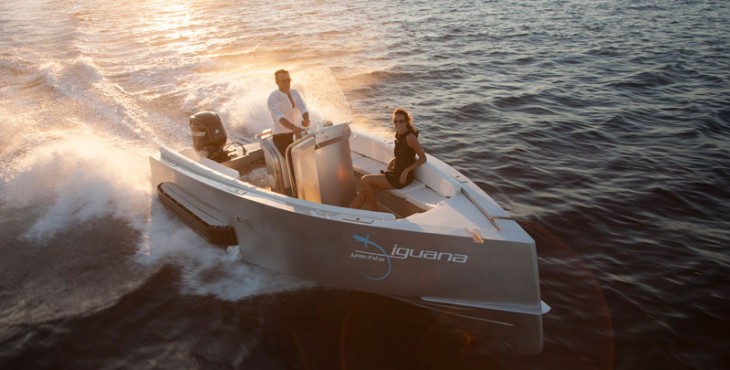 In the water the French-built Iguana 29 is much more lively. Thanks to the large 300 horsepower outboard motor hanging off the back, the top speed is a respectable 35 knots (40 mph). It can carry up to 8 people and is available in three different trim models:
The Exclusive model offers luxury options like gold-plated stairways, cleats and rails, leather trim, a hidden bar with crystal glasses from the Saint-Louis cristallerie in France, leather trimmed controls and a Bose sound system.
The Classic version of the Iguana 29 is designed to be a little sportier and multipurpose, an ideal luxury yacht tender, and available with a choice of different colors and finish combinations.
The Adventure version of the Iguana 29 is designed to be like an aquatic 4×4. It's ideal for those who like to fish, snorkel, and explore. The interior is designed to be more practical, with roll bar providing storage for a wakeboard or even bicycles. All the surfaces have been designed to be easily wiped clean.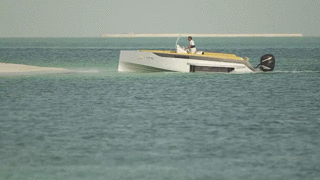 A luxury powerboat which can happily drive itself out of the water doesn't come cheap however, and if you want an Iguana 29, first of all you'll have to find at least $362,000 (285,000 EUR) for the cheapest model (the Classic) with no options. The most expensive model, the Exclusive, costs a whopping $550,000 (434,000 EUR) if you tick all the options, which includes $38,000 for a carbon fiber roof!