The Nissan Kicks concept was a preview of a possible future production model. It was designed in Japan at Nissan's Global Design Center with input from Nissan's North American and South American design studios. The concept has been created with an emphasis on the Brazilian market, but there is a possibility it could also be introduced in other countries as a cheaper alternative to the Juke.
The Nissan Kicks concept, which the company says is all about fun, hence the name, was introduced to the world at the 2014 Sao Paulo Motor Show, the largest and most important auto show in Latin America. The concept is a development of the Nissan EXTREM which was unveiled at the same event two years previously. However unlike the EXTREM, the Kicks looks not a million miles away from being production viable.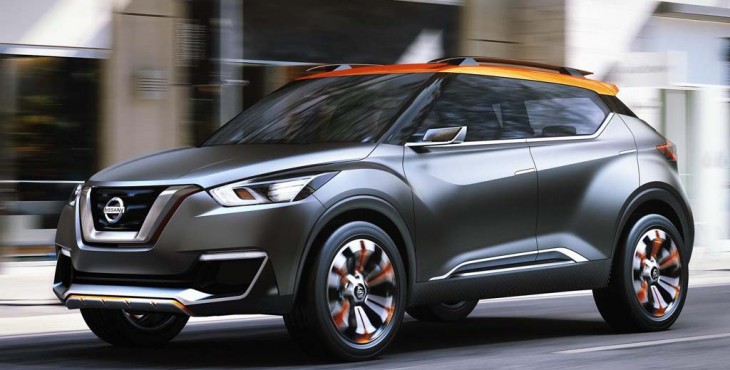 The high-riding concept has a solid-looking sculpted body, with deeply contoured wheel arches and a wrap around-style windscreen with hidden pillars. The roof, elements of the front grille, and the spokes of the alloy wheels have all been finished in a contrasting orange which stands out against the dark gray of the rest of the vehicle.
Nissan Kicks Concept Dimensions (mm/inches)

Length
4300/169
Height (including roof rails)
1600/63
Width
1800/71
Wheelbase
2620/103
Commenting on the production possibilities of the vehicle, Shiro Nakamura, senior vice president and chief creative officer at Nissan said: "We are looking forward to hearing the public's response to the Kicks Concept at its Sao Paulo debut to see if there is a business case for such a vehicle… While designed to reflect the unique desires of the Brazilian market, we are naturally considering if it would meet the needs of urban-dwellers in other countries around the world."
Nissan didn't go into any details regarding the drivetrain the Kicks would employ, nor did it go into further details of the other countries it was considering marketing the vehicle.