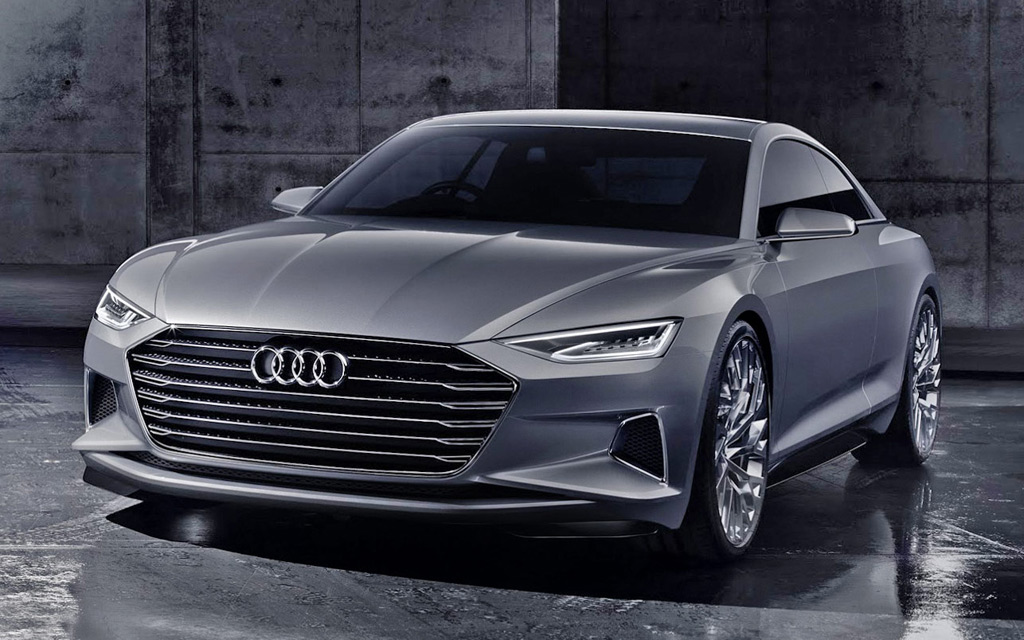 The Audi Prologue concept which was unveiled at the 2014 Los Angeles Auto Show is one of the most important Audi concepts in recent years. Partly because it provides a taste of a future large luxury coupe. But mainly because it's a preview of a brand new styling direction for the company's vehicles as a whole.
The Audi Prologue was designed under the guidance of Audi's new head of design, Marc Lichte. Prior to Joining Audi in 2014, Lichte was a senior designer at Volkswagen. By the sounds of it, Lichte seems keen to make some serious changes to Audi's styling. Or as Prof. Ulrich Hackenberg, Board Member for Development at Audi puts it; "When he moved to Audi, Marc Lichte launched a design offensive".
The Audi Prologue is the first vehicle to wear the new design language, and while at first glance it looks much like all recent Audi concepts, there are some changes afoot. Firstly the grille is much broader than before. It's also less rectangular in shape and hexagonal. The headlights are smaller, and also provide a link to Lichte's background at VW.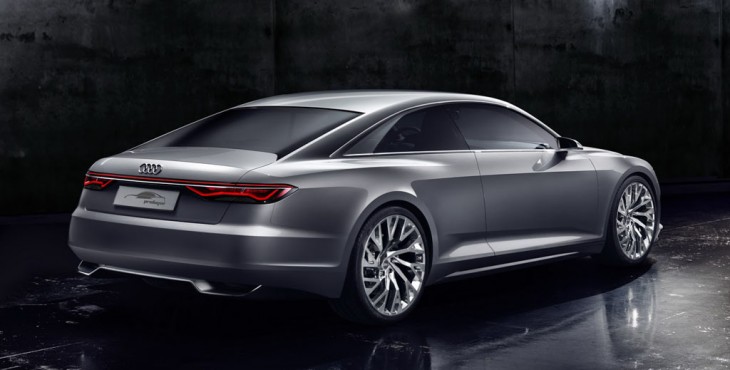 In profile the Prologue shows off some its wide wheel arches designed to showcase the quattro AWD system. The side view also helps show off the proportions of the car. It's big – nearly 17 feet (5.1 metres) long and 6.5 feet (1.95 metres) wide – and very imposing, especially with its enormous 22-inch wheels stuffed under the arches.
The rear is where things start to get a little weird. There is some unusual and unnecessary trim covering part of the C-pillar, an awkward looking concave rear window, a busy looking rear light cluster, a dull rear bumper, and the curving lines don't really match up that well with the much crisper front end design.
The oddity of the rear portion of the car is carried through to the interior. Where it doesn't really feel like a super luxurious car. It's all very cold, clinical and quite plain. It feels a little more like a modern take on a futuristic 1980s French concept car than something Audi – famed for their interior design and quality – would build. Worryingly, Audi say this new interior design will also be rolled out across the model range.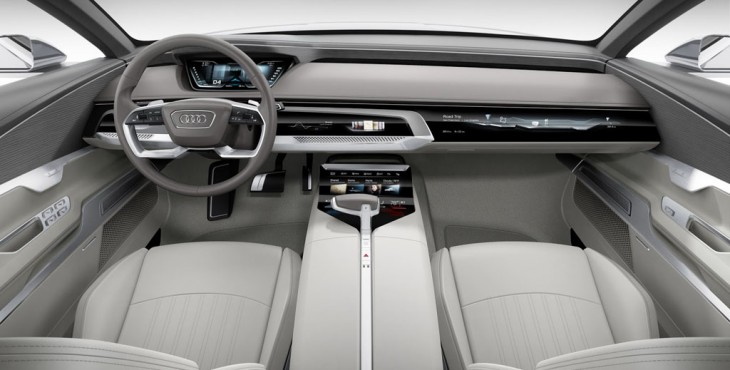 The car is also equipped with a system called the "butler", a software program that recognises the driver based on their smartphone and adjusts the seats and climate control according to their preferences. The system will also make recommendations for music and route planning depending on who's in the driver's seat.
Powering the Audi Prologue concept is a 4.0 litre turbocharged V8 engine which produces 605 horsepower and 553 lb-ft (750 Nm) of torque. All that power makes the car very quick, especially for such a large vehicle. 0-62 mph (100 km/h) takes just 3.7 seconds.
The car also features a dynamic all-wheel steering system, with the rear wheels capable of moving up to an angle of five degrees – making it easier to maneuver when parking or driving around tight corners.
The chassis of the Audi Prologue concept features adaptive air suspension with a large adjustment range for comfort or performance driving. The system also varies the car's ground clearance over several settings. The front and rear suspension systems are engineered as lightweight five-link designs. The car is also equipped with huge carbon-fibre ceramic brake discs. On the 20-inch front brakes, they are gripped by six-piston calipers.
Audi haven't said for definite when, or if, the Prologue will enter production (some are already calling it the Audi A9). But they have made it perfectly clear that in the future Audi's will start to look more like this, than the cars currently for sale in their showrooms.