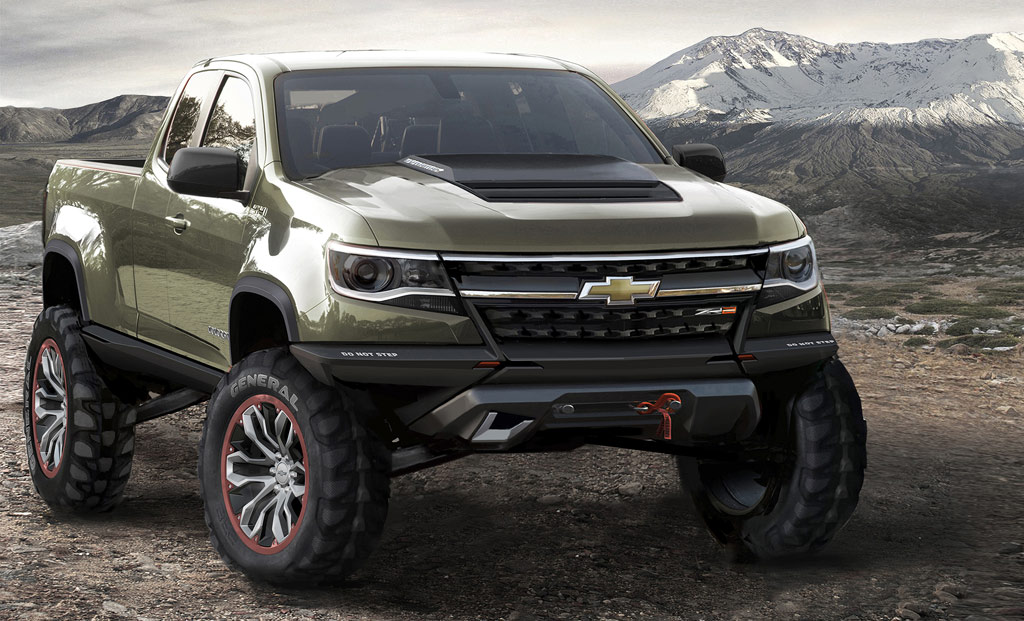 Chevrolet has revived the ZR2 nameplate and stuck it on the back of a Chevrolet Colorado-based concept pickup. The Chevrolet Colorado ZR2 joins a lineage of ZR2 models which started 20 years ago with an upgraded model of the compact S-10 pickup. But the Colorado ZR2 not only shows a vision of how Chevrolet could uprate the model for off-road duties, it also showcases the new 2.8 litre Duramax diesel engine which will be available in the Colorado from later in 2015.
The Chevrolet Colorado ZR2 concept is based on the production Colorado Z71, but it has been altered to make it even more of an off-road machine. It's four-inches wider for a start, and there are new front and rear bumpers which have been designed to improve approach and departure angles – the bumpers also hide integrated flip-out aluminium tow rings. There's also a 2-inch lift kit, skid plates to protect the underside of the truck and an integrated winch system.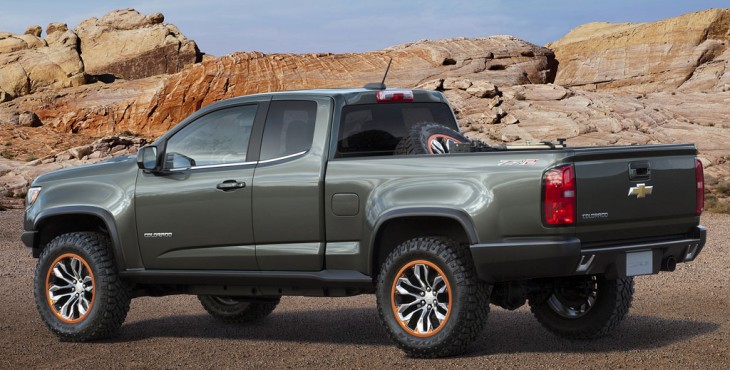 The Colorado ZR2 concept also features electronic-locking front and rear differentials, which distribute torque to the rugged off-road tires mounted on custom 18-inch aluminum multi-spoke, bead-lock-style wheels. New wheel arch flares cover the larger off-road tires and at the same time give the pickup a more imposing appearance. Newly designed rocker guards have also been added.
Other modifications to the exterior design include an all-new grille and headlamp housings with blacked-out accents and a power dome-style hood  which is reminiscent of Chevrolet's Duramax-powered Silverado heavy-duty trucks.
A matching spare wheel/tire, with a quick-release handle, is mounted in the bed. The bed also features the protective spray-in bed liner available with production Colorado models, GearOn accessories and a 48-inch Hi-Lift jack.
The interior of the Chevrolet Colorado ZR2 concept is limited to a smattering of ZR2 logos, and additional switches for controlling the winch and electronic-locking front and rear differentials.
Powering the concept is a new 4-cylinder 2.8 litre Duramax diesel which produces 181 horsepower and 369 lb-ft of torque. This engine is one of a new range of turbo-diesel engines designed to offer a combination of efficiency and performance.