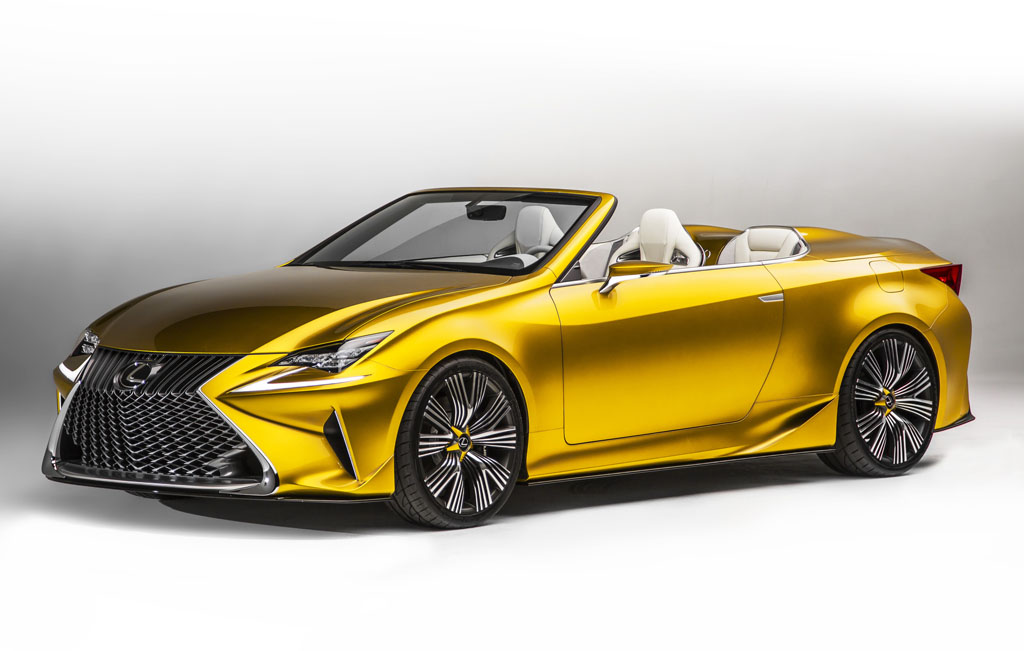 Lexus made good on their promise to bring a concept 2+2 convertible to the 2014 LA Auto Show,  by unveiling the Lexus LF-C2 concept. The Lexus LF-C2 is a luxury open-top 2+2 sports car which the company say is an example of the bolder styling direction currently being explored by the company. That new direction seems to primarily revolve around seeing just how big and ugly you can make a front grille. Which is a shame, because the rest of the car is quite nice.
The LF-C2 is basically a preview of a convertible version of the RC coupe, and for the concept Lexus have decided to experiment with the front facia, and in particular the love-it or loathe-it signature spindle-shaped grille – somehow managing to make it even more overpowering to the overall design.

One of the other striking aspects to the Lexus LF-C2 concept is the extremely bright yellow paintwork. This was achieved by a layered paint process which involved putting a silver coat down first, followed by a clear coat, then the yellow, and finally another clear coat.
The rear end of the Lexus LF-C2 concept features an L-shaped tail light design, four chrome-finished exhaust tips, and a restyled rear diffuser. The concept's wheels are multi-spoke 20-inch alloys.
The interior of the concept features a clean, uncluttered design with white and gray leather upholstery. LED lighting and a multitude of digital display screens give the interior a very modern feel.
While it's clear the LF-C2 is a design study for a convertible version of the RC coupe, Lexus haven't come out an said it themselves. Nor have they announced a production date or pricing.