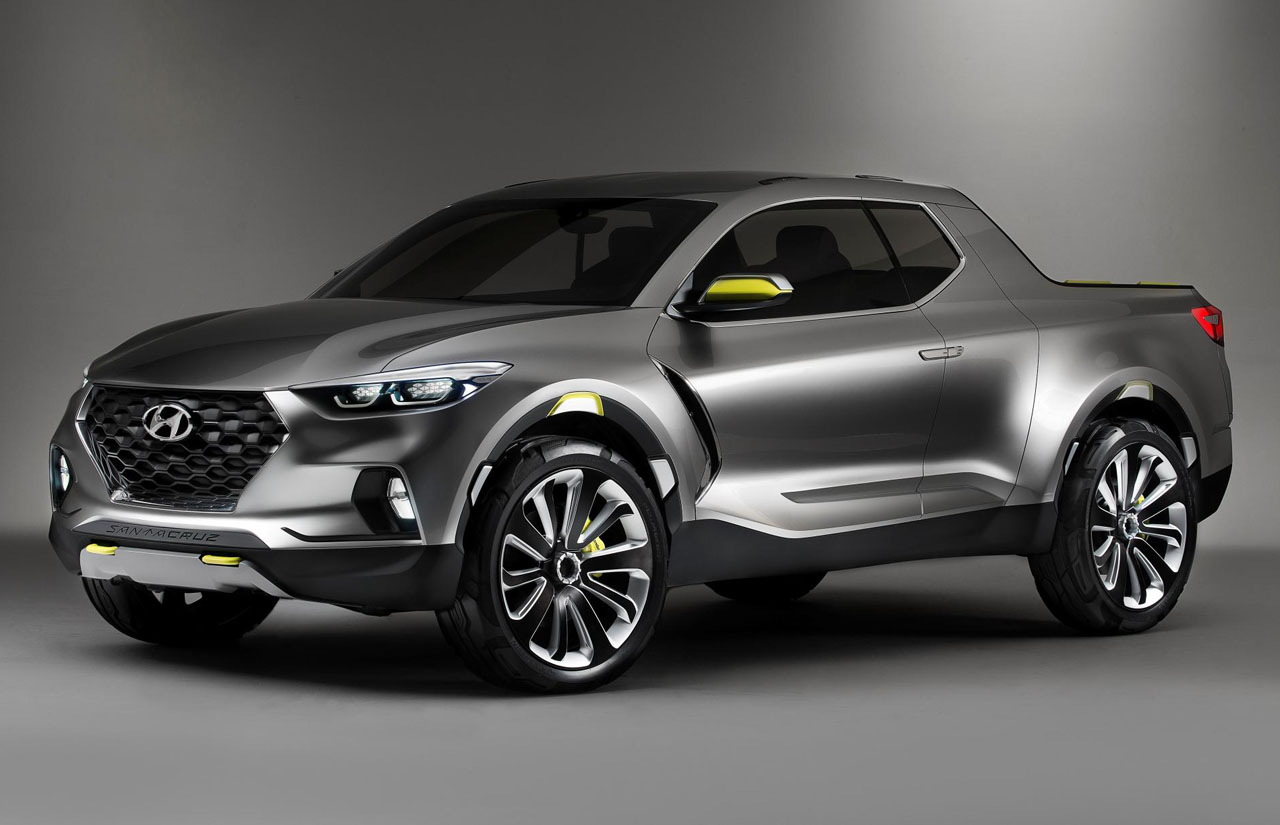 Hyundai's show stopper at the 2015 Detroit Auto Show was this little number. An extremely sporty looking pickup truck, which looks extremely appealing. The Santa Cruz Crossover Truck Concept is aimed at a younger generation of buyers – those born in the early '80s or later.
The Hyundai Santa Cruz Crossover Truck Concept is designed to act as a multi-purpose vehicle, just as good at the daily commute as it is at  hauling cargo or friends and luggage. Hyundai call their prospective buyers for the concept "Urban Adventurers", and they see them as active people who have a busy work life and an even busier social life.
Stylewise, Hyundai's designers have knocked this one out of the park. Even people who aren't normally drawn to pickups can't argue that the Santa Cruz Crossover Truck isn't a looker. The front view features an upright, hexagonal grille with cascading lines framing the sides, dual lens-free, honeycombed headlamp projectors, and prominent LED fog lamps. The side profile is highlighted by oversized wheels, Michelin tires with a special tread design, center-locking hubs and yellow Brembo brake calipers.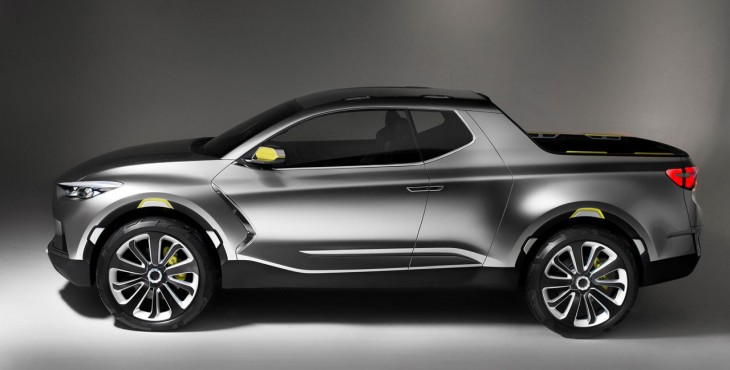 The concept is intentionally compact, and although it has four doors and seating for five, its overall footprint is similar to a small CUV. These dimensions make it ideal for navigating busy cities or squeezing into a tight parking spot that most pickup drivers would have to pass by.
The rear cargo bed of the concept can be extended when needed, providing a similar length to a regular mid-size pickup. But Hyundai are also keen to point out that they haven't designed the Santa Cruz Crossover Truck to compete with regular pickups, and as such the towing capacity, maximum payload capacity and ground clearance were not major considerations. Instead the vehicle is aimed more at potential CUV buyers who are looking for something a little more utilitarian.
Powering the Hyundai Santa Cruz Crossover Truck Concept is a 2.0-liter turbo diesel engine producing 190 horsepower and 300 lb-ft of torque. The vehicle also features Hyundai's HTRAC All-Wheel drive system. Fuel economy is said to be in the high 30 mpg range.
Hyundai haven't said much about the production possibilities of the Santa Cruz Crossover Truck, but they seem convinced there's a growing demand for such a vehicle, and the styling seems fairly production ready too. With a little luck something like this will be coming in the near future.
Just for a bit of fun here are two modified versions of the truck. One is a jacked-up off roader, the other a sporty lowrider.